First Building at New Prologis Park Brno Attracts Customers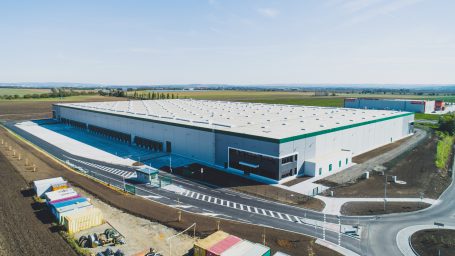 Prologis, Inc., the global leader in logistics real estate, today announced it has signed three lease agreements covering more than half of the first speculative facility recently completed at its new Prologis Park Brno.
The transactions include:
6,095 square meters for an e-commerce company that operates specialized internet shops and business portals;
4,653 square meters for Logflex CZ, a transport and logistics company that is an existing customer of Prologis at its Prologis Park Prague D1 East.
5,003 square meters for a global courier delivery services company
"Brno is one of our core locations where limited development opportunities and low vacancy rates have been pushing up rent levels significantly over the last two years. The opening of this new park provides a good opportunity for companies to secure superior quality facilities in one of the region's most in-demand locations," says Katerina Brezinova, leasing manager, Prologis Czech Republic.
The new park, which will ultimately comprise three buildings totaling 90,000 square meters, is 10 kilometers south of Brno, where demand is strong for the kind of high-quality, sustainable logistics facilities backed by superior customer service that Prologis offers all its customers.
The prime location of the park directly on the D52 motorway, which links Brno to Vienna, makes it an ideal distribution hub for domestic and international logistics service providers and light manufacturers that need easy access to markets in Slovakia, Austria, Hungary and Poland.
Prologis is a leading provider of distribution facilities in the Czech Republic with more than 1 million square meters of logistics and industrial space (as of September 30, 2018).