Colliers Advises Tarsago Česká Republika in Relocation of Offices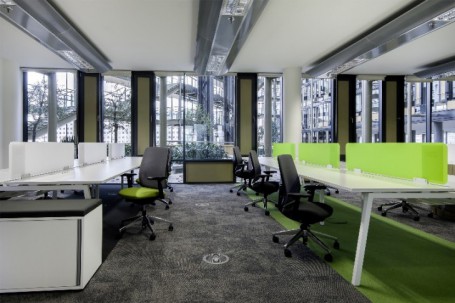 Prague, September 2, 2015 — Colliers International today announced that the company's Office Leasing Department, Tenant Representation Team, and Building Consultancy Team have successfully advised Tarsago Česká Republika, s.r.o. in the relocation of their offices to the Danube House in Prague, into which the company moved in March 2015.
The close of the deal marks the end of a process that started at the end of 2013, when Tarsago tasked Colliers with a comprehensive review of the company's accommodation needs with the aim of securing a solution that would best fit their new business strategy and internal reorganization. Located in Stará Celnice, Tarsago's now former 1,733 sqm office was over 10 years old, and the design and technology of the office reflected the office's age.
Having been asked find a solution for the company that would combine an open office design with varying levels of more secluded spaces, Colliers first considered a renovation of Tarsago's former location, which in the end proved to be impossible. Thus, Colliers changed gears and began searching for premises that more naturally matched the client's demands.
After successfully negotiating an early lease termination with Tarsago's former landlord, and thereby saving the company additional expenses, Colliers advised their client to relocate to the 1,100 sqm Danube House, thus maximizing efficiency and reducing the overall space leased by the company by more than 600 sqm. Having moved from an outdated, semi-cellular office environment to a modern open office concept promises the company's approximately 100 employees a more creative, collaborative working environment that is aligned with Tarsago's future business needs.
"We are extremely pleased to have moved into our new premises in the Danube House in March, which has already proven to be an environment that encourages our employees to meet, talk, and share ideas, and is thus perfectly aligned with our new business strategy," said Ricky Goodman the Transformation Manager at Tarsago Česká Republika, s.r.o.
Radana Williamsova, Senior Associate, Colliers International Czech Republic added: "The completion of this project on time and within budget demonstrates the ability of our various teams to cooperate in order to produce great results. Furthermore, the close of the deal also exhibits the comprehensiveness of services we have to offer here at Colliers."