CHEP introduces the Q+ plastic display quarter pallet, bringing brands closer to shoppers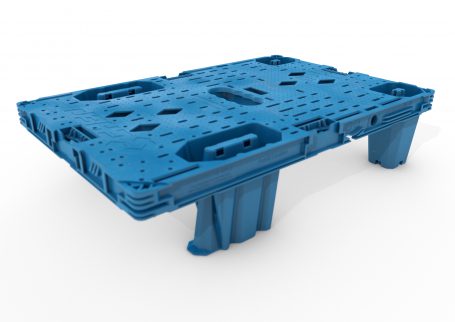 CHEP, the global leader in supply chain solutions, has introduced the Q+ plastic display quarter pallet at the logistics innovations forum LOG-IN, in November 2019, held in Prague. The pallet offers new possibilities to improve brand visibility, product availability in store storage, transport and the overall impact on the environment, as it is currently the only 100 % carbon-neutral display pallet. It has been created in collaboration with key partners from the retail and FMCG market to meet the demands of today and the future challenges of retail.
"Shopping behaviour is constantly changing. With the rise of e-commerce, the way people shop has transformed completely. Shoppers want to have wider choice, easy store navigation, better product availability and to spend less time finding the product they need. Operators of physical stores need to anticipate shoppers' expectations and create a seamless shopping experience to keep them coming back. This change in dynamics puts a lot of pressure on supply chains," says Jan Kočárek, CEO of CHEP in the Czech Republic and Slovakia. "If most companies see the supply chain as moving 'from field to shelf', we take a different view, the one that begins with the shopper and goes backwards. So, we have engineered the supply chains to flow goods efficiently and effectively to meet shoppers' demands. And then we use our products to help retailers and brands replenish shelves, execute promotions effectively with the aim to help them sell more with lower costs."
The Q+ quarter display pallet features new patented capabilities: it can be double stacked. And double stacking will allow manufacturers and retailers to optimise transportation and storage which means in practical terms reducing the amount of trucks by half on the European roads and reducing CO2 emissions.
The product also features the patented Blue Click® attachment system for easy set-up and safe transport of pre-packed retail displays. The cardboard displays can be easily attached to a reusable plastic pallet, co-packed and then sent from the warehouse to a shop in a ready-to-display state. Therefore, there is no need to hire merchandisers to assemble and manually refill goods anymore, saving time and costs. This solution helps brands to gain visibility on the shop floor and, at the same time, reduce product damage during delivery and improved product availability on shelves (OSA).
"The inherent part of our business model is based on sustainability, through the share and reuse of CHEP platforms," states Jan Kočárek. The sustainability benefits of moving from a single use wooden display pallet to the display quarter pallet, can be calculated using the Power of Pooling online calculator. Thanks to this tool, companies have full visibility on their CO2 and wood savings. Find the calculator here.
"At the same time, the new quarter pallet reflects the vision of our Zero Waste World global sustainability strategy: it helps eliminate physical waste, empty transport units, and therefore, fully meets the needs of modern retail," adds Jan Kočárek.
The Q+ display quarter pallet has become CHEP's fastest growing product in the Czech Republic. Over the past 12 months CHEP has released over half a million display pallets in the Czech Republic and Slovakia, representing a 77% year-on-year increase.This is a confirmation that Czech brands have been using it to successfully to execute promotions, for both local retail outlets and moreover for exporting ready co- packed promotions to other European countries.