Arcona Capital leases in Prague city centre to the UN and the Czech Academy of Sciences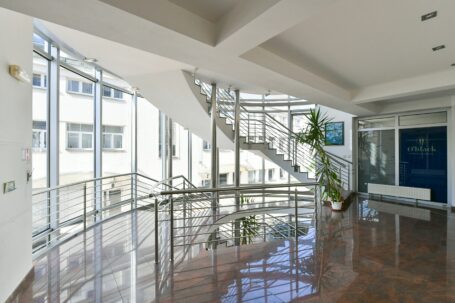 Arcona Property Fund N.V., a listed fund that invests in commercial real estate in Central Europe, has signed two new leases for office space in Prague. The new tenants are subsidiaries of the United Nations and the Czech Academy of Sciences. Both tenants have moved to the Fund´s  Karlín Office Center, which is located at  Prvního pluku 8A, in Prague's modern and popular Karlín district.
The International Organization for Migration (IOM), a United Nations agency, moved their Prague offices as of January 1st 2023 to Karlín. The space was refurbished prior to the commencement of the lease with a contribution from Arcona Capital, preparing the space to host IOM, which is dedicated to promoting humane and orderly migration for the benefit of all by providing services to both governments and migrants.
More space in Prvního pluku 8A has meanwhile been leased by Středisko společných činnosti AV ČR, a subsidiary of the Czech Academy of Sciences. The administrative centre for the Academy leased the office space from December 2022, with a lease period until 2027.
Currently, 385 square meters of space remains available to lease in Prvního pluku 8A.
"Our new tenants at Prvního pluku are standard bearers for the academic and non-profit sectors," said Tomas Oesterreicher, Head of Leasing at Arcona Capital. "This office building, in one of Prague's most fashionable districts, will provide a functional and attractive base for their operations and a pleasant place to work for their employees. We look forward to working with these new tenants over the coming months and years to help them get the maximum possible benefits from their new space."