Zahálka Residence is one of the best real estate projects in the Czech Republic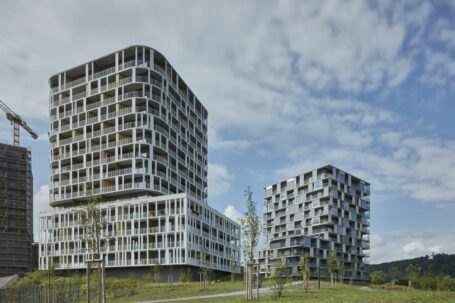 Zahálka, a new neighborhood being developed by Horizon and Karlín Group in Prague's Hodkovičky, has received another industry award, coming second in the prestigious Best of Realty competition in the category of larger-scale residential projects. The expert jury praised Zahálka's architecture and its environmentally friendly design. The complex is currently in its second and third construction phase, comprising over 500 apartments and several retail units.
The jury at the 23rd edition of one of the most important Czech architectural competitions Best of Realty decided which projects, in six categories from residential to industrial construction, were the best developed on the local market in the past year. The first phase of Rezidence Zahálka, built by Horizon and the Karlín Group, was a major success in the category "large-scale residential projects," as the second highest-rated project.
The combination of an original architectural concept with the use of energy-saving technologies brought the silver award to Zahálka. Elements such as efficient water management and the use of heat recovery had already earned the first phase international BREEAM "Very Good" certification. In addition to sustainability, the Best of Realty 2021 jury also praised the communal facilities Zahálka offers its residents: a newly built park, a garden, a playground and a pet-friendly play area. With its own amenities, the complex builds on the existing benefits of the location, which include peaceful views of the Vltava River and the green slopes of the adjacent Chuchle, and the availability of various sports facilities and facilities for a wide range of leisure activities.
"We are delighted to win second place in Best of Realty for the first phase of Zahálka, especially because the jury recognized the comprehensive approach we take to all of our projects – a combination of thoughtful design, modern building technologies, principles of sustainability, and cultivating the surrounding environment to make life easier for residents,". said Yishay Furman, CEO of Horizon Group. "We believe this philosophy is also reflected in the interest we see from our clients in the second and third phases of Zahálka currently being built."
The development of Zahálka, on the border of Hodkovičky and Modřany, started in May 2018. This spring the first residents started to move in after successful approval of the first phase. Currently, the last residential and retail units in two buildings being constructed within the second phase of the project are available to those interested, and the construction and sale of another 330 apartments is scheduled to start in at the beginning of next year. In total, Zahálka will comprise more than 800 units when completed.
Zahálka has already received recognition from the professional community in the past – its new Best of Realty title joins recognition at the 2019 Real Estate Project of the Year awards.