Top striker Luis Suárez sings with Puma Football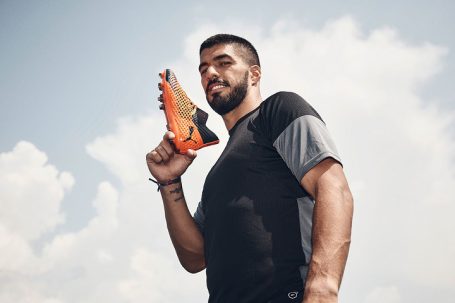 Today, PUMA announces that Luis Suárez, Barcelona and Uruguay striker, has signed with PUMA Football.     
Luis Suárez, 31 years old, is a hero of both club and country. Born and raised in Salto, Uruguay, he hustled his way to the top and established himself as one of the world's top strikers – a journey that is all about goals. He has been top goal scorer at least once in each of the European Leagues in which he has competed (Holland, England and Spain), scoring more than 20 goals in every season since 2012 (more than 400 in total). Suárez has also scored 53 times for Uruguay.
"I'm happy to join PUMA Family," said Suárez. "I appreciate the spirit of PUMA to rock the establishment of football as I have same spirit. I always fight to be a top scorer. I am sure we will write a cool chapter together."
Suárez will wear PUMA FUTURE Football boots. The first football boot with a truly customizable fit, PUMA Future's NETFIT technology allows players to lace to their unique needs, no matter the foot shape or lock-down need. The latest version available on the market is the PUMA Future 2.1 (Uprising Pack) in a shocking-orange colorway.
"We are delighted to partner with Luis Suárez. For years Luis has proven to be one of the best strikers in the world and his fighting spirit fits perfectly with our brand positioning to be the gamechanger in football," said Johan Adamsson, Global Director of Sports Marketing & Sports Licensing for PUMA. "Luis joins PUMA as another testament to our strategy of 'no PUMA without Football, no Football without PUMA.'"