RUBIK'S PARTNERS WITH PUMA TO LAUNCH NEW FALL COLLECTION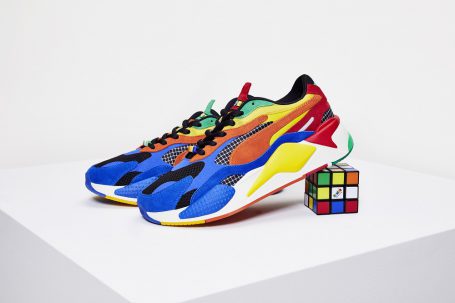 Rubik's Brand Ltd. (www.rubiks.com) has partnered with PUMA for a brand new Fall 2019 clothing collection. This collaboration brings together the iconic playfulness of a Rubik's Cube, and the sport-meets-street style of PUMA.
Set to debut this Fall, this colorful and stylish collaboration will bring together the best of both world renowned brands. This collaboration will include sneakers, sweatshirts and t-shirts for both children and adults, stamped with globally recognized branding and vibrant Rubik's Cube colors.
PUMA X RUBIK'S drops globally on PUMA.com, PUMA stores and selected retailers on November 21. Personalization will be available shortly after the official launch this fall. The collection will consist of sneakers and apparel for children as well as adults and feature for the first time PUMA's new RS-X3.
A preview of the collection is on display at the Rubik's Pop-up-Shop at 9-11 Short's Gardens, London WC2H 9AT from 1st to the 2nd of October.