Rheinmetall expansion of Central European Industry Network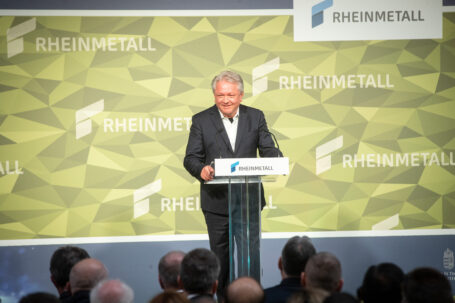 Rheinmetall today held the opening ceremony for Phase One of its new engineering and production plant at Zalaegerszeg in Western Hungary. The plant offers production, R&D and testing facilities and will bring hundreds new skilled jobs to the region.
Construction began only a little over one year ago and when completed the site will be Hungary's largest defence systems manufacturing plant.
The ceremony was performed by the Prime Minister of Hungary, Mr. Viktor Orban in the company of Mr. Armin Papperger, CEO of Rheinmetall.
Local Manufacture of Rheinmetall KF41 Lynx Infantry Fighting Vehicle
The new factory will produce 172 of the Hungarian Defence Ministry's order for 218 KF41 Lynx Infantry Fighting Vehicles, a contract valued at more than €2bn. In accordance with Rheinmetall's Central European strategy, a significant percentage of the value of the contract will remain within the Hungarian economy, both as direct inward investment in the Zalaegerszeg factory and in the form of contracts placed with Rheinmetall's Hungarian industrial partners in Hungary, Germany as well as regional partners like Slovakia and the Czech Republic.
The process of training Hungarian employees to play their part in the Zalaegerszeg R&D, manufacturing and testing processes – 'technology transfer' – has already begun. Currently almost 50 colleagues of Rheinmetall Hungary are in Unterlüss, Germany for onboarding and training-on-the-job purposes.
Prime Minister Welcomes Rheinmetall Partnership
Mr. Viktor Orban, Prime Minister, gave Rheinmetall's Zalaegerszeg factory a warm welcome and emphasised the strategic partnership with the German defence technology leader.
Mr. Armin Papperger, CEO of the €9bn Rheinmetall Group, mentioned in his speech that the strategic partnership with Hungary is an important advance in Rheinmetall's vision for a Central European defence systems industry. He was extremely pleased with the speed of construction and announced that this investment will produce huge economic benefits as international export orders– not just for the Lynx, but also for many other state-of-the-art products which will be developed and manufactured in Zalaegerszeg will be realised.
Central European Defence Engineering Vision Takes Shape
Rheinmetall's representatives at the ceremony referenced further planned investments in a future ammunition production facility in Varpalota. The company is discussing a joint venture designed to create a world-class centre for development and manufacture, capable of supplying military customers' needs throughout Europe and beyond.
Mr. Paul Walf, Head of Corporate Coordination Central Europe for Rheinmetall Group, said the Zalaegerszeg plant is evidence that Rheinmetall's strategy for a co-operative, independent Central European defence systems industry is beginning to take shape. 'Only last week we were presenting our plans for the new factory next door in Moldava nad Bodvou – a €30m investment by Rheinmetall in pursuit of our Central European defence engineering vision.'
What it all means is that hundreds of new jobs, millions of Euros of inward investments, tens of millions in terms of contracts with our industrial partners and significant international export orders are in prospect. And all this at a time when, sadly enough, security is high on every country's national agenda'.