PUMA TEAM UP WITH A BATHING APE®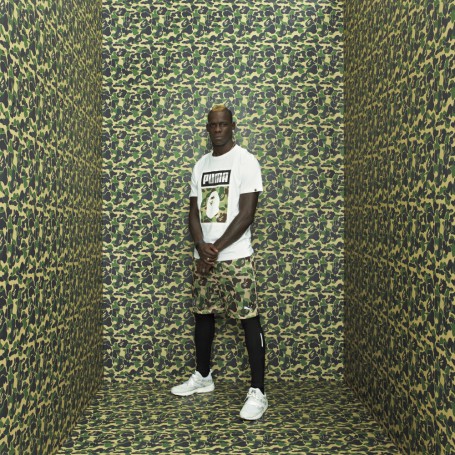 Global Sports Brand PUMA has announced its partnership with Japanese street label, BAPE® also known as A Bathing Ape®. The Autumn-Winter '15 PUMA x BAPE® collection features a fusion of high street style and sports by integrating BAPE®'s iconic camouflage print and graphics into PUMA's sports performance apparel and footwear.
Founded in 1993, BAPE® has elevated lifestyle streetwear to the highest level, setting trends and influencing musicians and artists around the world. The new collaboration collection has been designed to make a strong statement on streetwear's heart and soul; sport.
By applying its unique design aesthetics to some of PUMA's most classic and well-known styles, BAPE® has created a unique capsule collection. The original 90's R698 shoes have been given a distinctive re-fresh with BAPE®'s black camo design whilst the Disc Blaze has been given an equal camo flash in a classic green camouflage print. The Blaze, an icon known for its material play as well as its tech and sporty sole has been merged with BAPE® for an all-over design treatment.
Designed using the Autumn-Winter '15 team replica football jerseys, the FC BAPE® Replica Shirts have a camo print in addition to reflective piping on the sleeves for a streetwear edge. The shirts can be coupled with the FC BAPE® Replica Shorts in the collection. Utilising archives, the BAPE® Long Coat has been inspired by coats which coaches use on the training field and in the dugout on match days whilst the BAPE® Training Jacket has an original PUMA X BAPE® tape design on the sleeves. The apparel collection is completed by the BAPE® Shark Hoodie, based on the iconic and best-selling design from BAPE®'s mainline.
The range extends to accessories and includes bags, football socks and headbands. The BAPE® Duffle Bag, constructed from a highly durable polyester body-fabric, offers consumers a performance training silhouette with a streetwear edge as well as BAPE®'s iconic camouflage print.
The PUMA x BAPE® Autumn-Winter collection will be released exclusively in BAPE® stores globally on November 28. The collection drops at select lifestyle retailers globally starting December 12.