PUMA Store in Prague reopens with new Forever Faster store design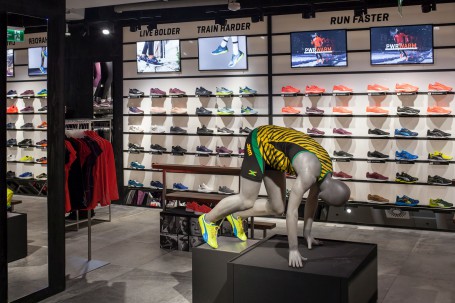 Prague, November 10, 2015 – Sports company PUMA has today reopened its PUMA Store in Prague in a completely new store design, reflecting PUMA's mantra of Forever Faster. With an overall shopping area of 280 square meters, the store space has been optimized to offer a broad range of PUMA's Performance and Sportstyle collections, featuring dedicated and gender split areas for the categories Running and Training, Football, Motorsport, Sportstyle and Accessories. 
Located in the heart of Prague in the Palladium shopping mall, which is home to 177 shops spread over five floors, PUMA's new store is situated next to the main entrance with windows facing Namesti Republiky Square. The location is just a walking distance from the shopping street Na Prikope as well as the main tourist attractions of the Old Town.
PUMA's new Forever Faster store design, which was rolled out to currently eleven locations worldwide, provides an enhanced consumer experience reflecting the energy of the brand through a strong product focus. The idea behind the new retail concept is to better tell PUMA's product stories, reveal the technologies behind them and communicate to the consumer at first sight that PUMA is a sports brand. This is underlined amongst others by performance mannequins in various training positions and celebrity corners displaying iconic athletes of PUMA's rich sports history.
The opening hours of the renewed store are Monday through Sunday, 9am – 10pm.
For more information, please visit www.puma.com.