PUMA® REINVENTS LACING WITH IGNITE NETFIT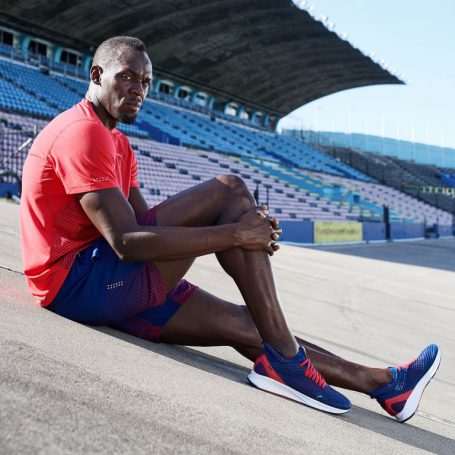 One Shoe. Infinite Customizable Styles.
Continuing in PUMA's tradition of developing game changing innovations, the Global Sports Brand recently introduced NETFIT – a unique customizable lacing system that offers infinite performance and style options in one shoe.  The brand now releases its latest performance trainer featuring this innovation, the IGNITE NETFIT.
NETFIT Technology enhances fit and support by combining a high grade engineered net with form-fitting base materials. The IGNITE NETFIT user will now have complete control and versatility over how they lace up. No matter the style, needs, or shape, anyone can customize their shoe the way they see fit. The options are limitless, bringing customization to another level and giving everyone the chance to be as creative as they possibly can.
The IGNITE NETFIT also features PUMA's evoKNIT form fitting knit for added comfort and a fresh look. The heel is reinforced by PUMA's TPU Heel clip, locking the heel into the platform of the shoe for ultimate stabilization.
The IGNITE NETFIT boasts PUMA's proprietary PU foam with a brand-new chevron design giving users superior energy return and comfort, combine this with the Molded EVA sockliner and the result is ultimate comfort on every run. The outsole provides a perfect platform for users to take every stride with confidence, PUMA's EverTrack outsole rubber gives durability and traction from heel to toe, with flex grooves allowing for full flexibility at toe off. To add to this, a redesigned transition line runs from the heel to the toe of the shoe and mimics the natural gait of the user to create the smoothest ride possible.
IGNITE NETFIT offers full form-fitting comfort, allowing users the chance to totally customize their fit and style. The innovation and performance teams at PUMA have developed five different lacing options to help provide guidance, but the possibilities to lace are endless. The 5 lacing systems include Standard lacing, for runners who need minimal support; Stability lacing, for runners who need additional medial support; Wide Foot lacing, for runners with wider feet that need extra room; Narrow Foot lacing, for runners with narrow feet; and Heel Support lacing, for runners who prefer a tighter fit around the heel.
The fastest man in the world, Usain Bolt, is training with IGNITE NETFIT for the World Championships in London 2017. "I do a lot of training – sometimes a bit too much – and it's always different. Sometimes I'm doing power work, and then sometimes it's speed and agility work, so it's important to have a shoe that's flexible enough to do the right exercise," says Bolt. "The best thing about the NETFIT Technology is that it is customizable and I can lace them any way I want; not only to get the best fit, but it gives me the opportunity to be creative with it. Sometimes you wish you could just design shoes purely tailored to your own feet and now you can. Plus, they look great, and that's always the most important thing, right?"
Adam Petrick, Global Marketing Director, said: "Our goal at PUMA is to constantly push the design of sports products forward in unique and innovative ways. NETFIT certainly does that – it's a performance innovation that allows for athletes at every level and across a range of sports to create their own, perfectly customized fit. But maybe even more exciting are the opportunities for creativity – anyone can use laces of different colors, widths, lengths and styles to create a personal expression for each individual taste. With NETFIT, we're bringing fashion and style to the world of Sports in a way that is uniquely PUMA."
PUMA IGNITE NETFIT will be available worldwide on June 1st for men and women at PUMA.com, sport stores and department stores.
Please follow @PUMA Facebook, Twitter, Instagram and Snapchat for more product stories.
#LacedUp