PUMA MAKES A POWERMOVE WITH THE SUEDE 50 BREAKDANCE CITIES PACK AND B-BOY PACK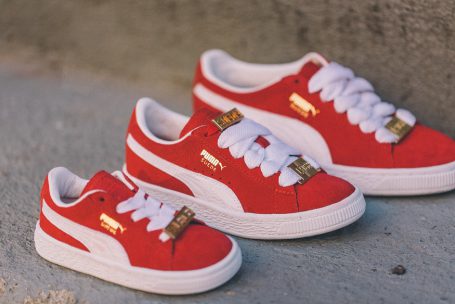 The Suede 50 party keeps it poppin' as Global Sports Brand PUMA honors its hip-hop heritage with the Suede 50 Breakdance Cities Pack.
The silhouette broke into the breakdance toolkit in the '80s as the culture bubbled all over New York.  With its plush suede, cool colorways and thick rubber soles with grip that doesn't slip on dancefloors, cardboard and concrete, it became a B-boy and B-girl style essential #ForAllTime.
The Suede 50 Breakdance Cities pack pays respect to the four most influential breakdancing cities worldwide: New York, Berlin, Paris, and Seoul. PUMA give props to these cities that has kept B-boy culture alive, tracing back to the Bronx, its birthplace, across the pond in Paris where the subculture went onto mainstream media then finding the breaks in Berlin. Eventually, the culture permeated to the Far East, making a major splash in Seoul.
In four distinct colorways, each Suede Classic is embossed with a graphic treatment that celebrates its respective city and each pair has a matching tee. All come come in junior, preschool and infant sizes as well. Complementing the kicks are Breakdance Tees each bearing the city name.
Suede Classic New York is all swag in a plush orange suede upper and Formstripe with blue lining that pops while keeping it classic atop a thick white sole. The fat laces come in orange, white and blue, add the gold 1968 lace locks are they're certified fresh. Suede Classic Paris keeps it clean with a blue suede upper, liner and Formstripe to sit pretty on the chunky white sole. Set it off with fat laces in white, blue and red set in place nicely in gold lace locks. Suede Classic Berlin is bold in a red suede upper and a black liner on that big white sole. Fat laces (black, red, yellow) are eye-catching with the gold lace locks.  Suede Classic Seoul is refined and ready with a birch suede upper and liner atop that timeless sole. Fat laces (birch, white and blue) are polished with the lace locks.
xxx
Global Sports Brand PUMA celebrates 50 years of the Suede ushering in unique drops that represent the varied cultures that the iconic sneaker has been a significant part of – from music, fashion, street and pop culture. This month, the party kicks it with the B-boy Pack.
It may have started as a sport warm-up shoe, but the Suede got busy off the court when hip-hop was born in the Bronx. Smooth suede, fly colorways and a rubber outsole for grip: instant B-boy essential. The Suede danced in the streets and hit stages around the world, remixed by new school legends solidifying its status as certified fresh #ForAllTime.
To pay homage to B-boy culture, PUMA introduces the B-Boy capsule pack that consists of PUMA Suedes, T7 Track Suits, Tees and Accessories in OG styles and colorways.
Guys, girls and kids can gear up in three colorways. Fellas can pick from Black, Flame Scarlet and Forrest Green-Peacoat. Fly girls can choose from Red Dahlia, Spiced Coral and Blue Indigo while kids can kick it in Black, Flame Scarlet and Forrest Green. All B-boy Suedes come with the trademark thick grippy rubber outsoles perfect for power moves in dance battles. Fat laces fastened by gold name-plate locks make these babies legit breaker material. The kicks arrive in a special edition Suede 50 shoebox with metallic gold details and branding.
To compliment the sneakers and make a bold statement, the pack comes with the iconic PUMA T7 Tracksuit in Black and Flame Scarlet with signature 7-inch stripe down the side. The Suede Name Plate and Laced Tee give serious hip-hop swag. A mean Bucket Hat, a stuntin' staple Suede Cap and classy Suede Backpack make the B-boy uniform complete.
Follow @PUMASportstyle for all Suede 50 updates and check #ForAllTime to keep up with the conversation.