PUMA LAUNCHES SPRING/SUMMER '16 COLLECTION WITH SWASH LONDON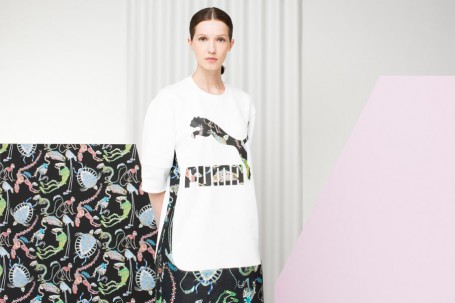 Global Sports Brand PUMA collaborates anew with the East London based print and fashion house SWASH London. The Spring-Summer '16 range will see the SWASH duo, Sarah Swash and Toshio Yamanaka, inject new bold and whimsical prints into some of PUMA's most iconic styles. Whilst the new collection delves deep into the unexpected, the styles remain streetwear-ready, staying true to both brands.
 SWASH has made its name in the industry with its hand-drawn and painted digital prints. Their signature style includes prints creating worlds inhabited by fantasy characters. The latest PUMA x SWASH collaboration picks-up where SWASH's last collection left off, adding high-end details to iconic sports styles. The new basketball inspired range is based on things lost and found including skeletons, antique jewellery and other hidden treasures.
 The PUMA x SWASH footwear shows the true inspiration behind the collection thanks to the bold application of prints to some of PUMA's most classic shoes. The Blaze of Glory, originally known for its athletic construction demonstrates the playful and artistic theme thanks to the all over SWASH OSSUARY design paired with a mellow soft leather strike. The STATES MID feature SWASH SAMOVAR, a unique hand drawn and painted design featuring bold and lavish intricate patterns with an upper constructed from rich leather. The STATES have been given an equally bold SWASH treatment with the embellished TOUCAN design in jewel colour print.
 The apparel range is a true partnership between SWASH and PUMA technologies and designs. Building on the basketball theme, the unisex Varsity Jacket features soft lambskin sleeves, side pockets and custom badges whilst the eye-catching SAMOVAR print runs true to SWASH's design ethos. The SWASH unisex Basketball Tank had an allover SAMOVAR pattern and loose fit for a true basketball feel. The SWASH women's Track Jacket is a cropped style with elongated sleeves and waistband giving it a modern and sleek aesthetic. Further key styles include the SWASH Crew, SWASH Dress, SWASH Placement Print Tee and SWASH City Sac backpack.
 The blending of premium prints, cutting edge tech and handcrafted designs with classic PUMA styles perfectly represents both brands unique DNA, creating a refreshing and individual collection.
 The collection drops through select lifestyle shops worldwide starting April 1st.