PUMA AND SUE TSAI CREATE WILDFLOWERS COLLECTION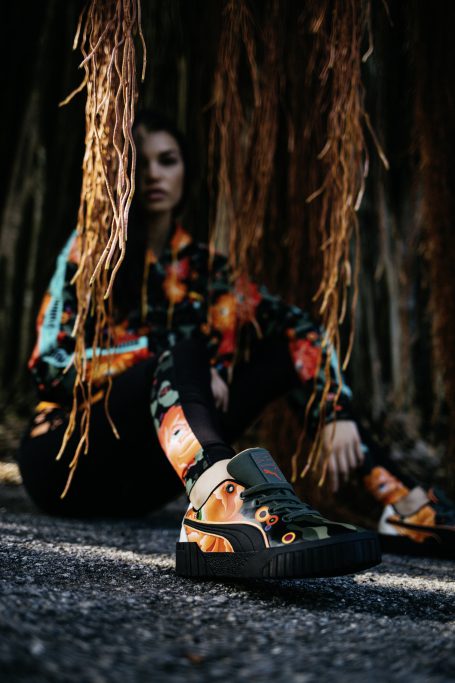 Global sports brand PUMA partners with New York-based artist and designer, Sue Tsai to create a bold and edgy capsule collection with custom renditions of classic PUMA silhouettes – Cali, Basket and Nova. Known for her bold and edgy style, the debut collection beautifully showcases the crossover of art, fashion and pop culture.
For the debut of PUMA x SUE TSAI, Sue uses her signature style to tell a story of flowers gone wild, rising up to take the planet back from humanity. Vibrant cherry blossom bombs and lotus rocket ships explode onto a camouflage backdrop, creating a streetwear collection that's at once gorgeous and untamed, delicate and powerful.
Beautiful and delicate on the outside but powerful and strong within, her collection brings a contemporary and playful set, that combines her vision of art and fashion across footwear, apparel and accessories. An evolution of the court platform silhouette, Cali 'Peonies Camo' S.TSAI is designed with a soft leather upper with an all over military camouflage print overplayed with hand-painted feel flower graphics. The heavily textured rubber sole with molded rubber inserts on toe and heel create a chunkier look. Nova 'Cherry Bombs' S.TSAI is a sleeker fashion-forward running silhouette with soft leather and neoprene upper and contrast mesh lining. Featuring intricate hand-drawn flower graphic on the upper with bold color blocking, the sneakers are built with a sculpted split sole design and thick outsole tread. The round two-tone poly laces and added heel tape with co-branded silicon print complete the look. Sue's elevated feminine take on the classic court silhouette, the Basket 'Cherry Bombs' S.TSAI with delicate hand-drawn flower graphics on quarter panels with additional embroidery details and iridescent-finish heel overlay.
For the apparel, Sue chooses a mix of sporty and streetwear silhouettes. Giving the summer dress a makeover, PUMA x SUE TSAI Dress inspired by a basketball jersey blends the wildflower theme with a bold graphic in the front. Layer this with the PUMA x SUE TSAI Crop Top to create a statement streetstyle look. Inspired by original Puma style from 1994, the PUMA x SUE TSAI XTG Track Top with iconic curved cutline on chest appears in two iterations – one that boasts of pearl cherry blossom allover print on the upper and another with black peony allover print on the lower. The cropped PUMA x SUE TSAI Hoodie with branded tape along the sleeve features digital wild flower print at center back and PUMA x SUE TSAI Tights with contrasting T7 side inserts can be paired with an assortment of cotton graphic tees from the collection. With statement accessories to complete the look, Sue designs PUMA x SUE TSAI Backpack Pouch, PUMA x SUE TSAI Duffle and PUMA x SUE TSAI Visor with all-over hand painted graphics and print.
PUMA X SUE TSAI collection drops globally on PUMA.com and PUMA stores on March