PUMA and KARL LAGERFELD introduce their new contemporary streetwear collection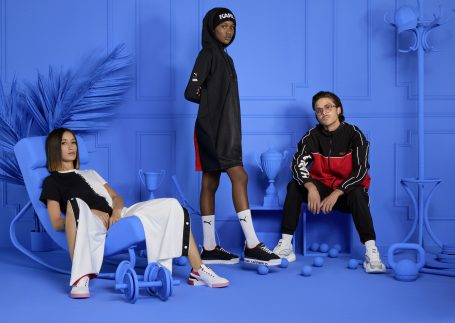 PUMA and KARL LAGERFELD team up once again to introduce a contemporary streetwear collection for men and women. Featuring apparel and accessories, the designs are inspired by PUMA's acclaimed archive pieces, reimagined with a modern, luxurious edge that is indicative of KARL LAGERFELD.
While staying true to the classic PUMA ROMA silhouette, the PUMA X KARL LAGERFELD collection features an all-black upper with contrasting white laces and the midsole with a striking "KARL LAGERFELD" graphic in black. The fashionable black pants offer a wide leg with drawcord waistband and a decorative white stripe on the side with contrast press buttons. Accomplish the stylish total look with the PUMA X KARL LAGERFELD cropped XTC half zip top in black including comfortable batwing sleeves with elastic cuffs. Bold, red-coloured branding and the unique interpretation of the formstrip on striking white adorn the sporty statement piece.
The PUMA X KARL LAGERFELD introduces the PUMA CELL ALIEN in azure blue with black and dark grey mixed details on the upper as well as a white midsole with vibrant red colour pops. The black trackpants feature a comfortable fit with elastic cuffs, drawstring, side pockets and contrasting piping in white. Additionally, the PUMA X KARL LAGERFELD collection includes a two- tone track jacket in red and black with bold white logo lettering on the sleeves and collar back neck. The new, eye-catching formstrip piping in white complements the track jacket design.
The PUMA X KARL LAGERFELD collection ranges from selected footwear over corresponding apparel like jackets, pants, hoodies and tees to accessories. PUMA X KARL LAGERFELD pre-launches on PUMA.com as well as on KARL.com on October 10, from 4:00 p.m. CET and drops afterwards at PUMA and KARL LAGERFELD stores as well as at select retailers on October 12.