Prologis Starts Construction of its First BIM-Designed Logistics Facility in CEE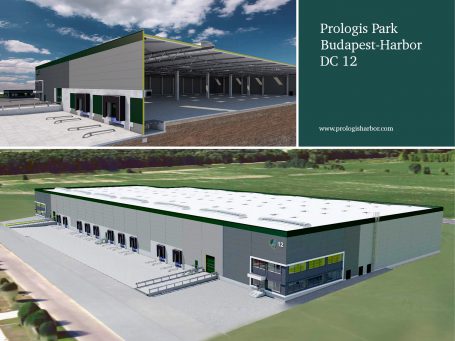 10,000 square meters of speculative development in Prologis Park Budapest-Harbor ready to accommodate customers as early as March 1, 2019
  Cutting-edge sustainability features reduce electricity consumption by 45% and heating costs by 30%
Prologis, Inc., the global leader in logistics real estate, today announced that it has begun construction of a new 10,000 square meter speculative facility at Prologis Park Budapest-Harbor in Hungary. Completion is scheduled for the first quarter of 2019, just six months after the start of the development.
The new state-of-the-art building is Prologis' first BIM (Building Information Modeling)-designed logistics facility in Central and Eastern Europe (CEE). BIM is an intelligent 3D model-based process that gives architecture, engineering and construction (AEC) professionals the insight and tools to more efficiently plan, design, construct and manage buildings and infrastructure.
The facility will be equipped with high-grade insulated wall panels and roof systems which, together with high-performance gas fired heaters, can cut heating costs by 30 percent. Further sustainable design features include energy-efficient LED lighting and large skylights that reduce electricity costs by 45 percent compared to the latest lighting standard. A smart metering system will help optimize water, gas and electricity consumption in the building. As is the case with all newly delivered Prologis facilities, it will be submitted for BREEAM "Very Good" accreditation.
"In response to high customer demand in this area, we have decided to expand the park by an additional 10,000 square metres, from which we look forward to furthering the business operations of our new customers", says László Kemenes, senior vice president and country manager, Prologis Hungary. "For Prologis, BIM is the essential platform for smart buildings and data governance, which in turn enhances customer experience and drives energy sufficiency as part of our commitment toward carbon neutral developments.
Prologis Park Budapest-Harbor is located on the southern border of Budapest in District 22, on the western side of Danube River. The park, which comprises 10 buildings totalling 130,000 square metres and 27,000 square metres of potential future development, has excellent access to international trade routes via the N6 national road and M0 and M6 motorways.
Prologis is the leading provider of distribution facilities in Hungary with 660,000 square meters of logistics space in seven industrial parks (as of 30 June 2018).