Prologis Park Prague-Rudna Attracts New and Existing Customers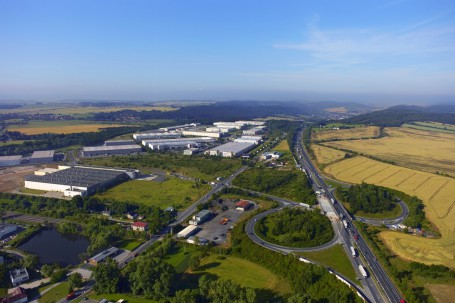 PRAGUE (June 24, 2015) — Prologis, Inc., the global leader in industrial real estate, today announced new leasing agreements, totalling 7,401 square metres, at Prologis Park Prague-Rudna.
The transactions include:
2,130 square metres of expansion space with DB Schenker, a leading logistics and transportation provider, in Building 10,
1,863 square metres with an entertainment supplies distributor, in Building 1, which is now fully let,
1,415 square metres of expansion space with Toyota Material Handling CZ, a leading provider of counterbalanced forklift trucks and BT warehouse equipment, in Building 3. Toyota Material Handling CZ will occupy a total of 7,111 square metres,
1,100 square metres with Universe Agency, a Czech bicycle and bicycle accessories producer, in Building 3. This agreement represents a relocation and expansion of Universe Agency's operations within the park,
893 square metres of expansion space with Albatros Media, the largest publishing house in the Czech Republic, in Building 3. Albatros Media will occupy a total of 6,443 square metres.
"Since its acquisition in September last year, Prologis Park Prague-Rudna has played a significant role in our response to high demand from our customers in and around the Prague region," said Martin Balaz, senior leasing and development manager, Prologis Czech Republic and Slovakia. "This steady increase in occupancy is due, in part, to our ability to tailor our facilities to the exact specifications of our current and new customers."
Prologis Park Prague-Rudna consists of 17 buildings, totalling 163,000 square metres, offering state-of-the-art distribution facilities. It is located 20 kilometres from Prague city centre, just off of the D5 highway, which provides convenient access to Germany and Prague International Airport.
Prologis is one of the leading providers of distribution facilities in the Czech Republic with more than 865,000 square metres of logistics and industrial space (as of March 31, 2015).