Prologis Hosts Third Annual Beach Volleyball Tournament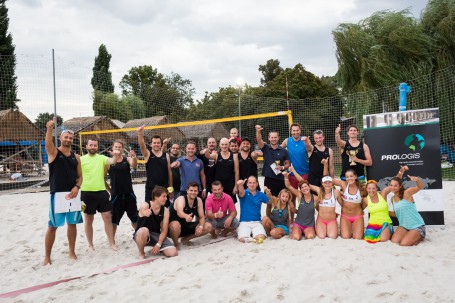 Company Serves Up a Fun-filled Afternoon for Local Teams and Business Partners
PRAGUE (21 September 2015) – Prologis, Inc., the global leader in industrial real estate, held its third annual beach volleyball tournament on Thursday 17 September at Žluté lázně along the Vltava River in Prague.
Business partners and customers joined members of both the Prologis Czech and Slovak teams for an afternoon of friendly competition and cheering colleagues. More than 40 guests enjoyed delightful weather and delicious food and drink amidst pleasant business conversation.
Of the 14 participating teams, DHL came in first place, followed by a combined team of Okury Consulting and Special Service International in second place and DB Schenker in third, while everyone stepped up their game to challenge a pair of professional volleyball players.
"Each year, we see more enthusiasm for the event and receive interest from a larger number of teams, which has made it something that we very much look forward to hosting every summer," said Martin Polak, senior vice president, country manager, Prologis Czech Republic & Slovakia. "Prologis' customers remain our priority, and we are constantly looking for new ways to strengthen our individual relationships, be it in a meeting room, on site or on a volleyball court."

Prologis is one of the leading providers of distribution facilities in the Czech Republic with more than 952,000 square metres of logistics and industrial space (as of June 30, 2015).