Prologis Developes Second BTS Facility for CERVA GROUP at Park Prague-Airport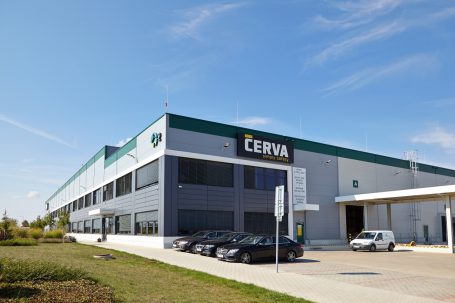 Prologis, Inc., the global leader in logistics real estate, today announced that it has begun a build-to-suit project totaling 9,817 square meters at Prologis Park Prague-Airport for CERVA GROUP a.s., a leading Czech producer of protective personal equipment and workwear.
This is an expansion of the existing facility 2A, which totals 32,032 square meters. Building 2B will feature the most up-to-date sustainable solutions and once complete by the end of the second quarter, CERVA GROUP will lease a total of 41,849 square meters at the park.
This building expansion will be the last development to take place at Prologis Park Prague-Airport. The park consists of a mix of BTS and speculative facilities, comprising five buildings totaling almost 136,000 square meters that are 92 percent leased.
"It's been little more than five years since we began developing Prologis Park Prague-Airport and its outstanding location, coupled with the superior quality of the facilities and customer service, means it has always attracted great level interest from companies looking to leverage its accessibility and amenities. Chances to expand at what has become one of the best performing parks in our Czech portfolio are fast disappearing and we are delighted that an existing customer, CERVA GROUP, has taken advantage of this rare opportunity," says Martin Balaz, vice president, country manager, Prologis Czech Republic and Slovakia.
"Obtaining high-quality facilities in premium logistics locations like Prologis Park Prague-Airport is becoming harder and harder. Working with our long-term partner Prologis has enabled us to secure our expansion needs by finding more space at one of the region's most in-demand logistics parks," says Tomáš Míka, logistic director, CERVA GROUP a.s.
Prologis Park Prague-Airport is adjacent to the D6 motorway at Exit 7, five minutes from Prague Airport. It has excellent access to national and international trade routes via the D0 to the D5 and D1 motorways. Public transportation links, including a bus stop in the park, provide connections to Kladno and Prague, as well as to the train station.
Prologis is a leading provider of distribution facilities in the Czech Republic with more than 1.1 million square meters of logistics and industrial space (as of December 31, 2018).