Prologis Breaks Ground on Two Facilities Comprising 62,325 Square Metres at Prologis Park Nitra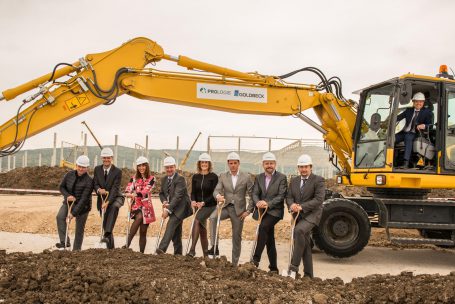 80 percent of space already secured to 12 customers
Prologis, Inc., the global leader in logistics real estate, today announced that it has started construction of two logistics facilities at its new Prologis Park Nitra in Slovakia. The expected completion of both buildings is scheduled for the second quarter of 2018.
Prologis Park Nitra, with a future total leasable area of 95,000 square metres, is located next to the new Jaguar Land Rover plant now under construction. The park's modern logistics facilities and premium location is proving so attractive to global and local suppliers of original equipment manufacturers that 34,000 square metres out of the total 62,325 square metres are already pre-leased to six customers. A further 15,600 square metres is under offer to another six customers, meaning around 80 percent of both facilities has been secured.
"Prologis Park Nitra will be a valuable addition to our growing portfolio of assets in Slovakia, where we are the leading provider of logistics facilities," says Martin Polak, senior vice president, regional head, Prologis Central and Eastern Europe. "Our Slovak portfolio is 100-percent leased, with this exceptionally high demand stemming from Prologis' ability to accommodate our customers' sophisticated logistics needs in a flexible manner while providing advanced features and property management services that are second to none."
Prologis Park Nitra is situated next to the Jaguar Land Rover plant, around 100 kilometres east of Bratislava and close to the R1 highway. Its location offers prime access not only to the planned next-door car plant, but also to the country's capital and beyond to Austria, Germany, the Czech Republic, Poland and Hungary.
With its active engagement in four CEE countries and a portfolio totalling 4.7 million square metres, Prologis is the leading provider of distribution facilities in Central and Eastern Europe (as of 30 June 2017).