Prologis Announces First Quarter 2017 Activity in Europe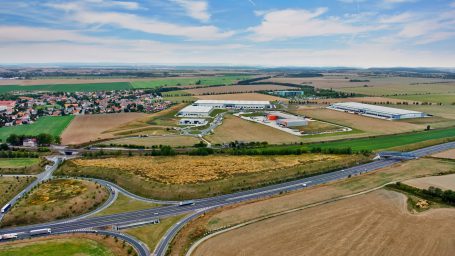 1.1 Million Square Metres of Leasing Activity
191,400 Square Metres of New Development Starts; 100 Percent Build-to-Suit
AMSTERDAM (21 April 2017) – Prologis, Inc., the global leader in logistics real estate, today announced first quarter 2017 activity in Europe.
Operating Performance
Prologis Europe ended the first quarter with 96.7 percent occupancy. The company signed new leases and renewals totalling 1.1 million square metres in the first quarter.
At quarter-end, the company owned or had investments in, on a wholly-owned basis or through co-investment ventures, properties and development projects totalling 16.8 million square metres in Europe.
"Prologis enjoyed another strong quarter in Europe," said Ben Bannatyne, president, Prologis Europe. "Customer sentiment remains positive, supply of modern stock is in check and demand is consistent across most markets."
Bannatyne added: "The consolidation of two European funds—European Logistics Venture 1 (ELV1) and Prologis Targeted Logistics Fund (PTELF)—in January further streamlines our strategic capital business. The launch of our UK Logistics Venture with CBRE GIP is an important milestone for continued growth in the UK."
Markets with the strongest interest from customers in the first quarter were:
The United Kingdom, Germany, the Netherlands and Sweden in Northern Europe.
Le Havre, Barcelona and Bologna in Southern Europe.
Prague, Budapest and Bratislava in Central and Eastern Europe.
Notable new leasing activity in the first quarter included:
53,500 square metre build-to-suit for Logiters (ID Logistics Group) in Penedes, Spain.
45,000 square metre build-to-suit extension for an international retailer in Oosterhout, the Netherlands.
13,200 square metre new lease with an international logistics provider in Prague-Uzice, Czech Republic.
11,400 square metres new lease with Cormar Carpets at Prologis Hemel Hempstead, UK.
Development Starts
Supply of Class-A logistics real estate remains low across all European markets. In the first quarter, Prologis Europe started six developments in the UK, the Netherlands, Italy and Slovakia totalling 191,400 square metres, 100 percent of which was build-to-suit.
Development starts included:
36,700 square metre build-to-suit for an online retailer in Tilburg, the Netherlands.
16,200 square metre build-to-suit for a clothing distributor in Bratislava, Slovakia.
Acquisitions and Disposals
In the first quarter, Prologis sold assets in Austria, Germany, Poland and Slovakia for a total of €46 million. It also disposed of 25 hectares of land in Germany and Slovakia.
Central and Eastern Europe Performance
Prologis strengthened its position in the region and maintained a record-high occupancy rate of 96 percent. At quarter-end, the company's operating portfolio was 4.6 million square metres of logistics space in 43 parks. The company leased more than 390,000 square metres, including new lease agreements totalling 125,000 square metres and lease renewals of 230,000 square metres, with the balance short-term agreements. Prologis delivered eight buildings totalling 121,000 square meters in Poland, the Czech Republic, Slovakia and Hungary; another four fully leased facilities totalling more than 120,000 square meters are currently under construction.