Prague citizens call on city to combat scourge of graffiti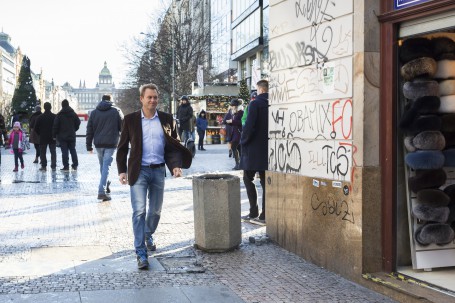 Prague, 28th January, 2016 – A survey of Prague residents shows an overwhelming demand for the municipality and police to take action against graffiti vandals. Over 80 per cent say that graffiti is a menace and that more should be done to eradicate it.
The survey conducted among 200 Prague residents and 200 tourists was commissioned from Ipsos by Flow East, a property owner and developer which has repeatedly spoken out against the spray-paint desecration of Prague's historic monuments.
Flow East offers expert help to municipal authorities

'It's not hard to deter these hooligans' says Flow East's James Woolf. 'To start with, you have to remove the graffiti at once. Responsible property owners like Flow East do this a matter of routine; any graffiti on a building of ours is removed before midday. By doing this the graffiti stops since the spray is expensive and the graffitist looks like a fool when he shows off his work to friends, only to find it has disappeared. All owners including public bodies should do the same thing.'
Graffiti costs Prague money

Flow East's survey shows that graffiti arouses surprise and disgust among Prague's 8m annual visitors, who contribute over 100m CZK to the city's economy. 'It's not just a question of civic pride – though that should be enough on its own' says Woolf. 'Graffiti also poses a threat to Prague's most valuable economic resource, tourism.'
Flow East has a wealth of experience in combating graffiti which it is ready to share with the municipal authorities. 'We've learnt from watching other cities' success in dealing with spray-paint and we have taken those measures to solve the problem on our own properties' says Woolf. 'We want to help the authorities tackle this scourge on a city-wide basis. Graffiti is everyone's problem.'
Four-fifths of Prague citizens agree that Prague should do more to combat graffiti.
An overwhelming 81% of Prague inhabitants agree that the city (municipality and police) should do more to fight graffiti, while 69% agree that this phenomenon reduces the overall attractiveness of the capital. To no surprise, 37% of Prague inhabitants even believe that the abundance of graffiti is lowering living standards in the city. Tourists also viewed graffiti as a nuisance; nearly one-third (29%) believe that Prague should do something more to combat it.
For more information, please visit: http://petice.floweast.com/cz/home