Prag Art Works to showcase more than 30 Czech contemporary artists to Dec 6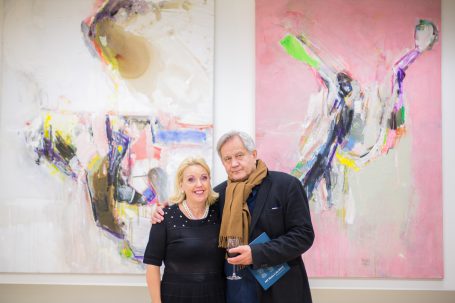 Prag Art Works announces that its group pop-up exhibition of more than 30 contemporary Czech artists and artists connected to the Czech Republic takes place from November 23 to December 6, 2017, at IMMOFINANZ in Jungmannova Street No. 15.
The showcase, titled "Art Works in the Office", features those artists whose work Louise Beer, the Canadian-born founder of Prag Art Works and contemporary art expert, believes deserve more recognition and attention.
The exhibition present work from various areas including sculptures, paintings, photography, sketches, glass works, mixed media and collages. Artists such as sculptors Čestmír Suška or Jakub Flejšar, graphic artist Pavel Roučka, painters LUMOS, Tomáš Tichý or Marek Schovánek, glass artist Vladimír Bachorík, visual artist Ivana Štenclová, photographer Zuzana Panská, collage artist David Strauss, multi-media artists Sadofsky&Trantina and many others will feature two or three pieces each. Visitors can buy the art works.
The exhibition, whose main partners are IMMOFINANZ and Colonnade Insurance, in collaboration with the Canadian Chamber of Commerce, was opened on Thursday, November 23 at 6pm by Canadian Ambassador to the Czech Republic H.E. Barbara Richardson.
"Prag Art Works is delighted to present this wonderful new opportunity for those interested in contemporary art to acquaint themselves with over 30 special and gifted Czech artists and those connected to the country," says Louise Beer. "This exhibition provides a dynamic platform for their work, which I hope will help bring their undoubted talent to a wider audience."