New Sky Helicopter Brings Hope in Fight Against Epidemic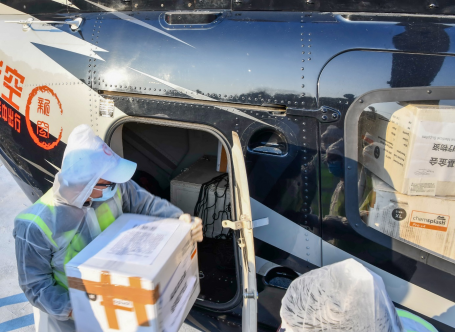 Around the Chinese New Year Festival, Shanghai-based helicopter operator, New Sky Helicopter would normally be in peak busy season chartering guests to different festivities. However, Cao Xintian, the founder and captain of New Sky Helicopter, found himself loading boxes of medical supplies into their Bell 429 instead of passengers. At the beginning of 2020, an unexpected epidemic broke out in China, causing the country to declare a state of emergency. Facing this ongoing global dilemma, Cao decided to "charter" his own helicopter to transport valuable medical supplies to Hubei and other regions where the epidemic was most severe.
"We're always told that everyone has shared responsibility for the fate of their country. Now, it's my time to contribute to my nation." Cao said. Shortly after making this decision, his squad was ready to transport medical supplies to the ground zero locations, save lives and stop the disease. This team of selfless volunteers labeled themselves the "Helicopter Epidemic Prevention Volunteers."
The main operation base of New Sky Helicopter is located in Shanghai, about 500 miles from Wuhan, the provincial capital city of Hubei. It takes 13 hours to travel by ground transportation, but only 3.5 hours by helicopter. "We removed some passenger seats to carry more medical supplies," Cao said. "Compared with commercial airliners, we carry less, but we have the most critical supplies onboard." The reagent used to detect COVID-19, the novel coronavirus, is one of these supplies. "The Bell 429's cabin allows us to carry what we need. We are also able to deliver supplies directly to hospitals and patients without having to go through the airport first."
"I can't say it's an easy decision to lead volunteers into the center of the epidemic," Cao states. "But we made it, I am proud of all of us." As of mid-February, New Sky Helicopter made 10 flights and transported more than 3 tons (220 cwt.) of medical supplies to impacted areas in Hubei and Zhejiang.
To support New Sky's important efforts, Shanghai Pudong International Airport set up special approach and landing zones for helicopters. The China Civil Aviation Administration, Air Force, epidemic prevention organizations, activists, entrepreneurs and more have also aided the Helicopter Epidemic Prevention Volunteers during their remarkable act of kindness.
"Everyone from our own volunteers to those offering their resources to make this effort possible are the real heroes in this story," Cao believes. "They are bringing hope to the world."