Modřanský Háj: Next Stage of Development Has Commenced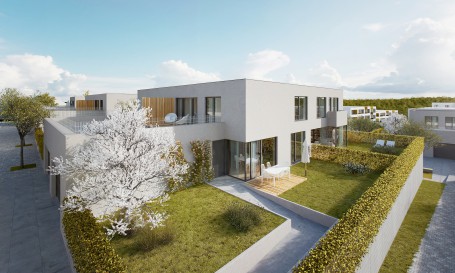 Avestus Real Estate, one of the leading real estate developers in Central and Eastern Europe, today announced that because of high demand and the successful sales of apartments in its Modřanský Háj residential project in Prague 12, it has started the next phase of development. Next to more traditional apartment buildings, Avestus Real Estate is introducing a new living experience that will offer future residents a garden with each flat or family house.
The development of buildings C, E and family houses F will commence in August 2016 and will be completed in November 2017. The official inspection is also planned for November with new residents able to move into their homes at the beginning of 2018. The sale of the units was launched at the end of June.
"The new types of flats and houses are unique in that green space will be an integral part of each new unit," said Roger Dunlop, CEO Avestus Real Estate. "We have achieved a very successful rate of sales with the two existing apartment buildings, of which one is completed and second already under construction. Currently we are happy to announce that all flats in A6 are sold and are now being handed over to their new owners. In our second building, B1, 60% of apartments have been sold and the construction is planned for completion in November 2016. This year, we have also decided to launch a new concept which takes our project further: for the first time, we are offering family houses with a larger amount of green space. "
In total, 32 flats will be constructed as well as 4 family houses. In building C there will be 14 units available starting at 2+kk to 4+kk disposition with the biggest apartments comprising 115 square metres. Building E will offer 18 flats all available in 4+kk and a total area of almost 120 square metres and two parking spaces with private access for the apartment owners.
For nature lovers, the advantage is that each apartment and house will contain a garden or green space. Additionally, a terrace comes will all apartments. The last four units in the F building are designed to be family houses with a total area of almost 192 square metres, and will each include a garden, ranging from 234 to 296 square metres.
The price per square metre in the C and E buildings will begin at CZK 51,000 including VAT. The prices for family houses begin at around CZK 10.5m including VAT.
"The flexible layout of building C allows for special enhancements to the industry standard, such as assembly of automatic roof windows in the kitchen in apartments where it is not possible to ventilate via normal windows. We are confident that these improvements will enhance the space and increase for future residents," added David Kříž, Residential Development Manager, Avestus Real Estate.
The architect for Modřanský Háj is the prestigious A69 – architekti s.r.o.
###
Avestus Real Estate
Avestus Real Estate is one of the leading real estate developers in Central and Eastern Europe. The company is the full-service development arm of Avestus Capital Partners, a leading international real estate investor. Avestus Real Estate acts as a principal and advisor in originating, structuring, financing, developing and managing a diversified portfolio of assets. In the Czech Republic the developer has in its portfolio a residential project Mondransky Haj and an office complex Explora Business Centre.