London Stansted Airport Teams Up with Kiwi.com to Revolutionise Transfer Traffic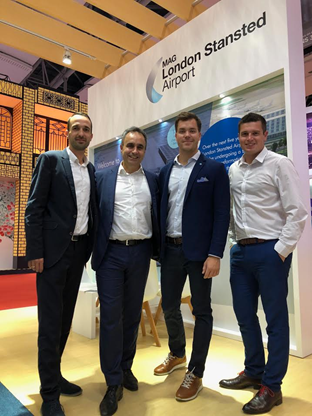 Kiwi.com, a pioneer in applying state-of-the-art technological solutions to the travel industry, and London Stansted Airport, the fastest growing airport in the UK, announce the formation of a strategic partnership aimed at disrupting and revolutionising transfer traffic in the aviation industry.
Under the new "Virtual Interline" initiative, London Stansted Airport is partnering with Kiwi.com to deliver a fast, comfortable and hassle-free transfer product at London Stansted Airport for the benefit of passengers and all full-service and low-cost airlines operating at the airport.
The "Virtual Interline" transfer product will be unlike any other interline or self-connect product currently available on the market.
For passengers, the transfer experience at London Stansted Airport will be simple, fast and seamless without the strain of exiting into the check-in hall, transferring terminals, or having to re-check in baggage for every flight – unlike the existing self-connect models.  For airlines operating to London Stansted Airport, the legacy issues associated with complex interline agreements, booking system integration, and connectivity to low-cost carrier networks will all be resolved in this simple new way of co-operating.
Using Kiwi.com's unique algorithms, machine learning capabilities and data insights, passengers from over 185 countries will be able to buy more than 2,500 unique flight combinations, across both full service and low-cost airlines, for travel via London Stansted Airport.
"We are delighted to be partnering with London Stansted Airport to assist in delivering this transfer product benefiting both passengers and all full-service and low-cost airlines which operate out of this key London airport. The global growth of our "virtual interline" model is enabling seamless travel, we are committed to making travel better for both users and providers", said Zdenek Komenda, Chief Business Development Officer at Kiwi.com
Aboudy Nasser, Chief Commercial Officer at London Stansted Airport said, "Our vision at London Stansted is to pioneer next generation journeys.
"We are currently serving more passengers than ever before and flying to 200 destinations across the global, and as London's fastest growing airport we expect this upward trend to continue. This is why we are investing £600 million in transforming the airport experience and have applied for permission to raise the number of passengers we serve to 43 million a year.
"Working closely with our partners Kiwi.com, we are developing a truly revolutionary transfer product that delivers the benefits of the existing interline model and airport assisted self-connect model, without their inherent disadvantages.  It's a win/win for both the airlines and their passengers."
With more than 40% of global passengers now bypassing traditional booking practices and beginning to create their own itineraries, stopovers and transfers, the new "Virtual Interline" model will be perfectly placed to tap into this growing trend.