Kvetinovy dum to showcase unique new glass technology by Zdenek Lhotsky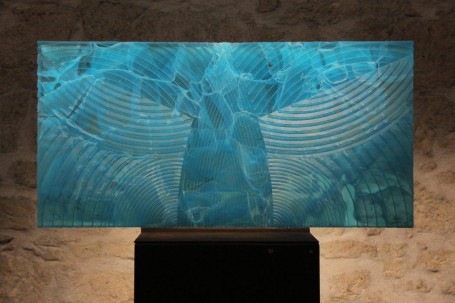 Prague, 7th May 2015 Flow East has announced that the two-storey foyer gallery at Kvetinovy dum, in Vaclavske namesti, will showcase artworks using the 'Vitrucell' technology invented by the distinguished Czech glass maestro Zdenek Lhotsky. This will be the first time that this unique and extraordinary glass process will be exhibited in a public building.
'Vitrucell' has taken Lhotsky over twenty years to develop. It is a new and radically different method of glass casting, similar to float glass, which uses a honeycomb structure to create a dazzling interplay of light and form using a palette of over a thousand colours.
'We are excited to be able to display Zdenek Lhotsky's genius at Kvetinovy dum' said James Woolf, chairman of developer Flow East. 'It is not often that something so new and different emerges in the world of glass technology, and we are privileged to reveal this unique artistic breakthrough to Kvetinovy dum's visitors'.
Focus on glass, light and transparency
Woolf explained the logic behind the link between Zdenek Lhotsky and the new building on the corner of Vaclavske namesti and Opletalova: 'Chapman Taylor designed Kvetinovy dum for us as a serious, functional and highly-efficient office building which is, at the same time, a jeu d'esprit in transparency, light and colour. The swirling textures of glass and bronze comprising the façade make an artistic statement about natural light which evokes the airy elegance that once harmonised Vaclavske namesti from end to end. We are hoping to set a standard which will encourage others to restore this famous square to its former glory.'
'Kvetinovy dum is all about light, so it was natural that we should approach one of the world's most eminent artists in glass to encapsulate the building's character in his own, unique way. We could not be more pleased that he accepted the challenge, and we are delighted to say that the display will be a first opportunity for citizens and visitors to witness the revolutionary 'Vitrucell' technology'.
Zdenek Lhotsky: innovator in glass for art and architecture
Zdenek Lhotsky, 58, is an internationally-renowned artist and sculptor specializing in glass. His work has appeared in over 240 exhibitions in Europe, the USA, the Gulf and Asia-Pacific; he has won numerous prizes and is a recipient of the Bavaria State Award for Design.
Lhotsky has completed commissions in glass for prominent companies, institutions and private clients around the world, and has earned a global reputation for his architectural compositions. His oeuvre ranges from these large-scale works to small masterpieces the size of a human hand.
He has won acclaim as an innovator, experimenting throughout his career with new and ingenious methods of exploiting the remarkable qualities of glass for visual impact. He uses mould melting, fusing, slumping, sandblasting, staining and painting to achieve his effects. His latest initiative, which has taken twenty years to develop, is known as 'Vitrucell'; this is a process akin to float glass-making but using a honeycomb sub-structure to create a luminous interplay of light, colour and form.
In the Czech Republic he is known for many public works and as a 'national treasure' in the global art community, but is perhaps best-known to the general public as the creator of the crystal 'Cesky Lev' film award statuette.
Lhotsky lives and works in Pelechov, Zelezny Brod.
Lhotsky has been in the news in recent years for his collaboration with the artist, Bjorn Norgaard, on the casting of a 7.5 tonne glass sarcophagus in Roskilde cathedral for Queen Margrethe II and Prince Henrik of Denmark.