KIWI.COM LAUNCHES WORLD'S FIRST BOOKABLE GLOBAL INTERMODAL ENGINE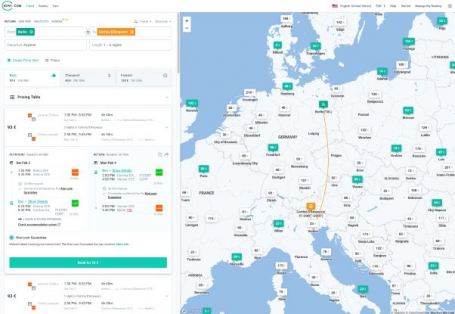 Kiwi.com has today announced the launch of technology that will enable travellers to visit cities that can't currently be reached by flights. This development will provide bookable itineraries with specific times and prices and not just general routing information, giving travellers the ability to find and book the optimum route, from start to finish.
Oliver Dlouhy, CEO and co-founder Kiwi.com said: "This was a natural progression for us, having developed and championed 'virtually interlined' flights by working with over 500 airlines, the obvious next step was to provide travellers with an intuitive door to door solution enabling them to plan and book a complete journey.
"Personally, I find it frustrating getting a great deal on a flight, having a smooth trip to a hub airport for skiing or summer sun resorts and then having to search around several sites for complicated transfers to my specific preferred destination."
With over 90 million daily searches on Kiwi.com and its distribution network, the new launch will provide a one-stop solution for travellers, showcasing the optimal transport combinations – whether based on time, routing, distance or cost, according to the customer's preferences. Kiwi.com is adding more and more content daily, connecting the currently unconnected, and there will be another ten thousand and more citypairings added over the next few months. This new multi-modal approach gives the traveller maximum control over their plans, linking up cities without airports. If travellers want to maintain some spontaneous elements to their trip they can just book segments.
"When we put this out to test with travellers they embraced the saving of time, money and stress, all backed by the Kiwi.com Guarantee", continued Dlouhy. "If their transport is delayed or cancelled, we will book them an alternative trip to their destination. Today's travellers are increasingly savvy, and this additional insight and control enables them to plan and book complex itineraries using trains, rental cars, taxis, ride hailing, ferries, buses, and hotels."
Kiwi.com is the first global company to be able to offer a comprehensive online bookable inventory including flights and onward connections. Kiwi.com displays specifics and joins the dots by 'interlining' the various elements of a journey. More than a mere a discovery tool, Kiwi.com indicates exactly what any chosen trip, routing and transport will cost and suggests alternatives. By being transparent and giving the power back to the traveller, Kiwi.com allows users to be inspired by the choices on offer and make an informed decision.
Dlouhy added: "This is a large-scale and ongoing project, which we are adding to daily. I truly see this an important milestone in the travel industry, providing an A to B solution to cities that currently don't have an airport. This should allow a lot more access to previously little-known places, opening up many more cities to tourism and visitors. We really are facilitating access to many new destinations and with the current 'overtourism' being experienced by some cities globally, this can only be a good thing."