Just planning a trip makes people happier, study shows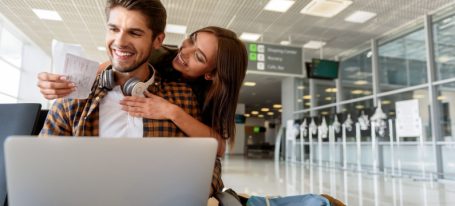 Although we probably imagined International Happiness Day, which falls on March 20, taking place under different circumstances this year, this doesn't mean we should allow ourselves to drown in sadness and give up on our plans – even for travellers.
According to a recent study*, looking ahead to your next adventure can benefit your mental health. Even if you're not sure when that adventure will be. And it seems that Czechs are trying to make the most of these benefits by looking forward to summer trips. According to Kiwi.com data, most Czechs would like to visit destinations in Italy or Spain in summer. This confirms the results of Kiwi.com's autumn survey conducted by STEM / MARK, which focused, among other things, on Czechs' travel plans for 2021 – including a desire to stay in Europe.
Kiwi.com data confirms that people are planning future trips and preparing for summer vacations. "According to our global data, people have been planning their summer trips since the beginning of the year. So far, we have received the most bookings for Athens, Palma de Mallorca, Istanbul, Milan, and Paris," says Eliška Řezníček Dočkalová, Director of Customer Experience at Kiwi.com.
Data for the Czech Republic suggests Czechs are already planning their summer holidays. "We see that Czechs are not only searching for summer trips – they are also booking them now.  Currently, the most popular destinations for Czechs are Italy and Spain. People mostly book trips to Milan, Barcelona, Malta or Malaga," added Eliška Řezníček Dočkalová. According to Eliška, Czech travellers see these destinations as safe during the pandemic. This perception is confirmed by the results Kiwi.com's autumn survey, which predicted that in 2021 a large majority of Czechs – 70% of them – will still be reluctant to travel outside Europe due to concerns about safety and travel restrictions. At the same time, many prefer more flexible booking options and insurance cover allowing them to safely cancel bookings in the event of an unexpected situation.
"With regard to the pandemic, we are seeing increased demand for special tariffs which give customers greater security in planning their holidays. I believe this desire for security is also a reason for people booking their summer trips as early as March" adds EŘD.
The prospect of summer holidays in Europe has been boosted by the European Commission's announcement that it plans to introduce a 'digital green certificate' that would allow EU citizens to travel more freely within the EU, thus greatly simplifying necessary pandemic travel management.
*According to a study conducted by Institute for Applied Positive Research, 97 percent of respondents say having a trip planned makes them feel happier, while 82 percent reported that it makes them "moderately" or "significantly" happier. Additionally, 71 percent say they feel greater levels of energy when they have a trip planned in the next six months. (Applied Positive Research: conducted in August 2020, sample consisted of 263 US based adults)
**According to Kiwi.com rankings, Barcelona, Milan and Málaga have been among the top 10 destinations for Czech travellers since 2018