Indulge in Emirates' inspired, delicious treats on World Chocolate Day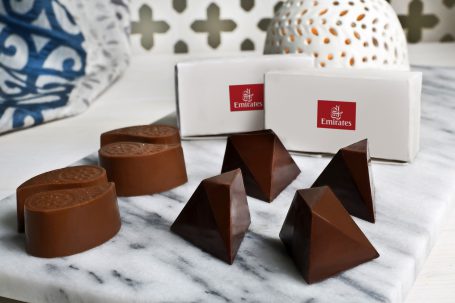 Emirates is a delight for chocolate lovers around the world. In celebration of World Chocolate Day on July 7, why not re-create some of the airline's most loved, chocolate desserts in the comfort of your own home!
With disruption to global travel affecting many people in the Czech Republic over recent months, here's a chance to re-create the airline's special on-board experiences, including its exquisite, mouth-watering desserts. Compiled by award-winning chefs, enjoy a one-way trip to chocolatey heaven with one of these four recommendations –
Chocolate Truffle Cake. Layers of moist chocolate sponge, gorgeous ganache and a fabulous filling: even the most experience chocolate connoisseurs go starry-eyed when presented with Emirates' glorious chocolate truffle cake. Perfectly complemented by exquisite raspberry jellies, this is a customer favourite on-board Emirates long-haul flights.
Chocolate Cheesecake. The modern cheesecake is an American invention. Adding chocolate to the mix is so popular in the US that National White Chocolate Cheesecake Day is observed on March 6 every year! Earlier this year, the airline served up a special white chocolate and passionfruit cheesecake for Valentine's Day.
Chocolate Mousse. Passengers' on-board flights to Europe have raved about the after-dinner chocolate mousse. The simple, light deliciousness of mousse makes it a classic worthy of all occasions. In celebration of Christmas last year, the airline added an extra touch of special milk chocolate mousse, with cranberry compote and a reindeer chocolate button on select flights, making the customer journey on-board even more memorable.
Flourless Chocolate Cake. This is a wheat- and gluten-free option which also happens to be just about the most rich, chocolate, dessert imaginable. The dense and elegant sponge is guaranteed to satisfy the biggest cocoa craving. Emirates serves it with a mango compote, but it is also great with fresh raspberries on top.
Emirates also presents an array of the finest gourmet chocolates, with brands including Godiva from Belgium, Canonica from Switzerland, and Coco Jalila, an Emirati producer making traditional European-style chocolates with an Arabic twist. These luxury chocolates are served in pairs as the finishing touch to each destination-inspired multi-course meal. Divine culinary experiences are just one part of Emirates' memorable touches on-board. For more recipes inspired by the airline, click here.
Emirates is currently operating services to a number of European airports including Vienna, Frankfurt and Munich.