Iconic Emirates Airbus A380 Lands in Prague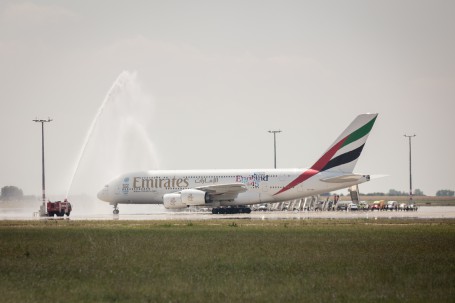 Emirates celebrates five years in the Czech Republic with special one-off flight
PRAGUE, 1st July 2015 – Emirates, a global connector of people and places, today completed its commemorative, one-off A380 flight to Prague as a celebratory exclamation of five successful years in the Czech Republic.
For five years now, Emirates has facilitated trade and tourism in the Czech Republic, and since its inaugural flight on 1 July 2010, the Prague-Dubai route has received two aircraft upgrades to allow for higher capacity in response to ever increasing passenger demand. The route is currently serviced by a Boeing 777-300ER, however this special Airbus A380 flight, carrying no less than 517 passengers from Dubai, is a symbolic nod to the sustained demand and loyalty from Czech customers.
"Since entering the Czech market, Emirates has invested heavily not only into its Prague-Dubai route, but into routes in Poland, Germany, and Hungary as part of our commitment to the entire region," said Thierry Aucoc, Emirates' Senior Vice President Commercial Operations, Europe & Russian Federation. "Prague is a key European destination for us in terms of both seat load factor as well as trade, via SkyCargo, and we are constantly looking for ways to facilitate ease and speed of travel for both, as seen in Emirates' investment into our product."
Known for its efficiency, the A380 aircraft burns up to 20% less fuel per seat than its nearest competitor, and offers enough space and amenities to allow Emirates to provide its customary world-class service to those on board. Emirates' A380 fleet offers travellers in every class Emirates' award-winning in-flight entertainment system, ice, with over 2,000 channels, and free Wi-Fi access. In addition, all Emirates A380 aircrafts boast unique features in Business and First Class, including a Shower Spa in First Class and popular Onboard Lounge for First and Business Class passengers.
"We are delighted to offer for the first time this truly unparalleled onboard experience to our Czech customers, who have so greatly contributed to Emirates becoming such a well established airline on the local and regional markets," said Bořivoj Trejbal, Emirates' Country Manager for Czech Republic.
Currently, Emirates operates 62 A380's around the globe, and its order for 78 additional models makes Emirates the world's largest operator of this aircraft.
"I would like to express our sincere satisfaction with our now five-year, longstanding relationship with Emirates – it is truly a pleasure to work with their Czech team," said Vaclav Rehor, Chairman of the Board of Directors, Czech Aeroholding, adding: "On behalf of Prague Airport, I would like to express our excitement over this opportunity for us to invite an Airbus A380, as we recently received a certification from the Civil Aviation Bureau for the regular operation of aircrafts of this size,"
"Today's flight commemorates a five-year symbiotic relationship between the Czech Republic and Emirates," added Mr. Aucoc. "On behalf of our global team, Emirates is looking forward to many more years of cooperation via the Prague-Dubai route and providing our Czech customers with the highest standard of travel in the sky."
Emirates' impact also extends to the support of Czech businesses and trade through Emirates SkyCargo, which transported an astonishing 43,349 tonnes of cargo between Prague and Dubai during its operation on the Czech republic, and to sports fans through Emirates' support and sponsorship of the D+D Real Czech Masters golf tournament.
The Emirates Prague-Dubai route operates as EK 139, departing Dubai at 0905hrs and arriving in Prague at 1325hrs. The return leg operates as EK 140, departing Prague at 1545hrs and arriving in Dubai at 2330hrs.