Horizon completes final approval procedures for Velká Brána Residence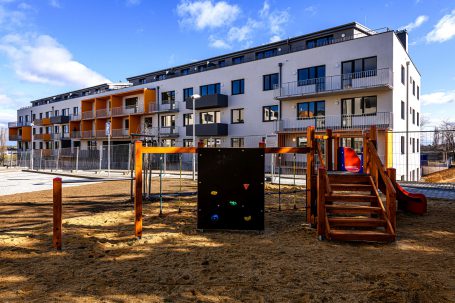 Development group Horizon has received final approval for the last construction stage of Velká Brána residential project consisting of 73 apartments. The award-winning complex in Horoměřice has been in construction since 2016 and includes almost two hundred residential units in a peaceful environment within easy reach of the city centre. Contracts for all residential apartments in Velká Brána have already been agreed. Commercial space remains available.
Horizon development group has received official approval for the last 73 apartments built at the Velká Brána Residence, located in the Prague-West district in the village of Horoměřice. This means the project, which consists of seven residential buildings as well as one multifunctional building with 195 residential and three commercial units, is complete.
The complex, which won the Architects Award in the Real Estate Project of the Year 2016 competition, is characterised by a modern architectural style emphasising rectangular shapes and areas benefitting from natural light, as well as the clever spatial layout of units.
"From the very beginning, we have designed and created the Velká Brána project with the idea of offering its residents peace, greenery and plenty of space, along with facilities for developing relationships with their neighbours and enjoying leisure activities, all the while benefitting from easy access to the city centre both by car and public transport," says Yishay Furman, CEO of Horizon group. "That this project was a safe bet is shown by the fact that all the apartments were sold out about a year before the final building approval was granted."
Three commercial units consisting of 103 sqm, 150 sqm and 410 sqm remain available. The purpose of these units will be to strengthen the self-sufficiency of the complex in terms of available amenities and services. The space could be used, for example, to set up a kindergarten, shop or hairdresser.
Three kids' playgrounds with rope obstacles, a climbing wall and a slide will also be part of the Velká Brána Residence, as will a Petanque court. Horizon has set up a two-way bus stop for bus lines #316 and #356 in Velvarská Street, which will be operational from June to ensure convenient access to the capital for residents of the new residential complex and of the wider area.
Apart from the completion of Velká Brána, Horizon group will continue to satisfy significant demand for residential properties in Prague and the surrounding areas by constructing approximately 1,000 apartments as part of projects running in 2020.