Healthy operations in Bratislava lead Dr.Max to double its space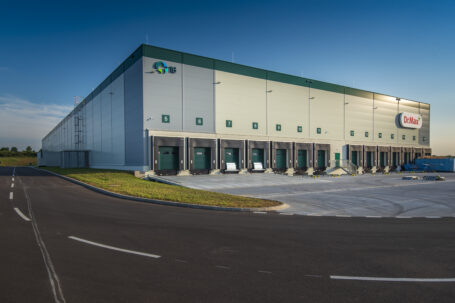 The strength of the partnership between Dr.Max, leading pharmaceutical company and one of the biggest health brands in Slovakia, and Prologis has been confirmed with a deal for a huge expansion of Dr.Max's space at Prologis Park Bratislava.
Dr.Max will newly lease an additional 10,000 square meters of space along with 750 square meters of offices. Coming on top of the 9,000 square meters already being leased, Dr.Max's total area at Prologis Park Bratislava will more than double.
Like the space already leased by the company, new warehouse and office areas will be provided within a Build-To-Suit development tailored to Dr.Max's needs. Primarily serving the company's B2B operations, the new space is expected to be completed in Q2 2024.
"Prologis Park Bratislava has provided a location that helps us serve not only the health of our customers, but also the wellbeing of those who work for us," said Jaroslav Kypr, Chief Operating Officer, at Dr.Max Slovakia. "Significantly expanding our operations at the park will allow us to make even greater use of the opportunities afforded by an excellent location, space tailored to our requirements, and healthy working conditions for employees."
The new BTS space will feature conveyer belt technology to serve Dr.Max's operational needs. The warehouse will also be temperature controlled, providing optimal conditions for the storage of goods while enhancing sustainability.
Employees in the expanded space will meanwhile benefit from a park-wide range of services designed to boost wellbeing and quality of life as part of Prologis' PARKlifeTM initiative. Prologis Park Bratislava has its own football pitch, which hosts a popular annual tournament, along with various other amenities including recreation areas, an open-air gym, a BBQ area, bike shelters, electric vehicle charging stations and more.
"Dr.Max's decision to more than double its space at Prologis Park Bratislava underlines the benefits of basing your business at this park," says Jakub Randa, Leasing and Customer Experience Manager at Prologis. "Ideally situated to serve end customers in Slovakia and beyond, the park provides a friendly and welcoming environment where people want to come to work. It's a place that actively promotes health and wellbeing, values that are fundamental to Dr.Max's own brand."
Dr.Max has been based in Prologis Park Bratislava since August 2021. Its decision to expand its space takes the park to full occupancy, although a further speculative development of 12,000 square meters is planned