Get the ultimate "upgrade" tip from the world's best airline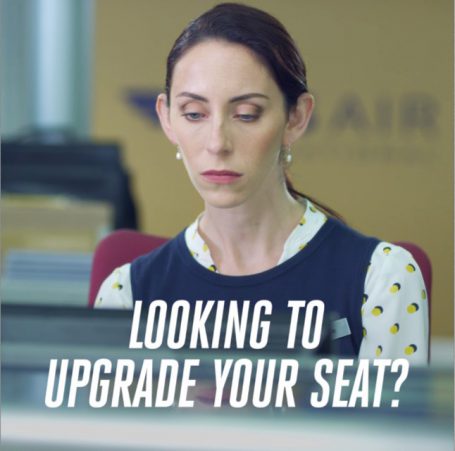 Emirates, the Best Airline in the World and Best Economy Class according to the 2017 TripAdvisor Travellers' Choice Awards, today released its latest marketing campaign to promote travel on its award-winning Economy class.
Emirates' latest ads feature a series of characters who try to wrangle a seat upgrade at an unnamed airline's check-in counter. Each spot ends with the ultimate tip for travellers: "Don't upgrade your seat, upgrade your airline. Fly Emirates."
Seasoned with a liberal dose of humour, the scripts tap into a rich vein of anecdotes about what people might say or do when they ask for an upgrade – from name-dropping and flattery to other more creative endeavours.
Also in a departure from typical airline advertising, the ads do not show the actual inflight product. Even the airline brand is not revealed until the end of the spot.
Boutros Boutros, Emirates' Divisional Senior Vice President, Corporate Communications, Marketing and Brand, said: "Emirates' Economy Class is well known for being a true, full-service product. We offer excellent value for money, with world-class inflight entertainment in every seat, full course gourmet meals, generous free baggage allowances, and great service.
"In today's environment where others are stripping amenities from their cabins and shrinking legroom, we believe travellers can relate to the desperate lengths that some people might go to, in order to get their seat upgraded. Our message is simple – why try so hard to upgrade your seat when you can fly Emirates instead?"
Anchored by a hero 30 second spot, and supported by over a dozen different vignettes, the campaign was created by Y&R London and directed by 'Jones' (AKA Michael Woodward and Maximilian Baron). It will be run worldwide throughout 2018 in Emirates' key markets including: the US, Brazil, Argentina, Australia, New Zealand, Singapore, UK, France, Denmark, Sweden, Norway, Hungary, Belgium, Austria, Switzerland, Cyprus, Canada and the Pan Arab region.  Emirates will also release a selection of these vignettes on its own social media channels over the coming weeks, featuring a different "upgrade trick" each time.
Watch Emirates' new campaign spot here.
Watch a selection of "upgrade tips" from Emirates' latest campaign:
Try the special occasion trick