George Clooney Returns to Prague!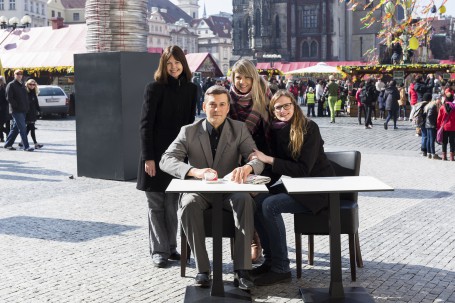 Academy Award winning heartthrob seen sipping coffee in city centre
 World famous Madame Tussauds surprised Prague tourists and coffee drinkers today with the one and only George Clooney, who was spotted enjoying an early morning caffeine boost in a café on Old Town Square.
"I nearly tripped over someone walking in the other direction when I saw him!" said passerby, Jana. "He was so lifelike… I had no idea it was a Madame Tussauds figure and not the living, breathing George Clooney until I realized he wasn't moving."
The international heartthrob has returned to Prague to rejoin fellow A-listers Taylor Lautner, Robert Pattinson, Bruce Willis, Heidi Klum, Lady Gaga and everyone's favourite funny man, Jim Carrey.
"Our philosophy is 'no ropes or barriers'," said Kieran Lancini, Global Head of Media Relations for Madame Tussauds. "We give fans the chance to get closer to their idols and Mr. Clooney in particular always seems to get pulses racing and cameras flashing."
However, Mr. Clooney is not travelling alone. Two surprise stars will join him at the Madame Tussauds Special Exhibition, hosted by the Prague Wax Museum located at 6 Celetna Street. Admission is included in the entrance price to the Prague Wax Museum, 160 CZK for adults and 100 CZK for children.
-ends-
About Madame Tussauds and Merlin Entertainments
Madame Tussauds has attractions in London, Hollywood,  Las Vegas, New York, Orlando, San Francisco, Washington D.C., Amsterdam, Berlin, Vienna, Bangkok, Beijing, Hong Kong, Tokyo, Shanghai,  Singapore, Wuhan, Blackpool UK and Sydney, with interactive figures and experiences built around fame and celebrity. In London, guests can get up close and personal with more than 300 lifelike wax figures of today's biggest stars; take a time-travelling taxi ride through 400 years of amazing London history; enjoy the exclusive Marvel Super Heroes 4D movie experience; and come face-to-face with 16 of the biggest heroes and villains from the Star Wars universe in 11 scenes recreating some of the most iconic moments in film history.
Madame Tussauds Studios, London, has been making wax figures for over 150 years. Each masterpiece takes four months, and a team of 20 dedicated sculptors, to create. Over 500 precise body measurements are referenced, real head hairs are inserted one by one, and countless layers of paints and tints are applied to build up skin tones – all to achieve the kind of astonishing realism that has kept Madame Tussauds world renowned for over two centuries
MERLIN ENTERTAINMENTS plc is the leading name in location-based, family entertainment. Europe's Number 1 and the world's second-largest visitor attraction operator, Merlin now operates 111 attractions, 12 hotels/4 holiday villages in 23 countries and across 4 continents. The company aims to deliver memorable and rewarding experiences to its almost 63 million visitors worldwide, through its iconic global and local brands, and the commitment and passion of its managers and c26,000 employees (peak season).
Among Merlin's attractions are – SEA LIFE, Madame Tussauds, LEGOLAND, DreamWorks Tours Shrek's Adventure!, The London Eye, Dungeons, Gardaland, LEGOLAND Discovery Centres, Alton Towers Resort, Warwick Castle, THORPE PARK Resort, Blackpool Tower, Heide Park Resort, Sydney Tower Eye and SKYWALK.  All brands which are distinctive, challenging and innovative – and which have great potential for growth in the future. Visit www.merlinentertainments.biz for more information.