Four Seasons Hotel Prague Opens New AVA Spa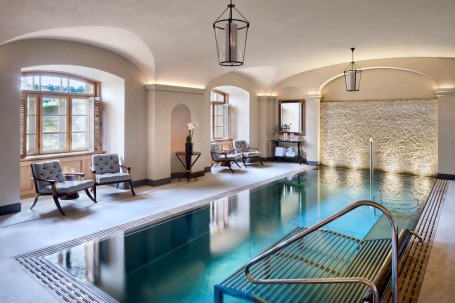 Relaxation and rejuvenation provided by Swiss Perfection, Sodashi and Omorovicza cosmetics complemented with traditional Czech thermal baths
PRAGUE, XXX, 2016 – Four Seasons Hotel Prague today opened its new AVA Spa dedicated to local traditions and luxurious pampering with breath-taking views of Prague Castle.
Historically, 'ava' is the Celtic word for water. To this day, 'ava' remains part of the names of many Czech rivers, including the Vltava River. Water and historical Czech spa traditions are central to the theme of the new AVA Spa concept.
AVA Spa has named its five treatment rooms after five nearby rivers including the Vltava, Morava, Otava, Litava and Svitava. The Vltava is a large couples´ suite with Rhassoul and a bath that offers breath-taking views of Prague's most beautiful sights, such as Prague Castle and the Charles Bridge. Guests are invited not only for rejuvenating treatments but also to relax in the sauna, steam bath and vitality pool with a waterfall, massage jets, accessories for hydrotherapy surrounded by comfortable chaise lounges and a fireplace creating a truly unwinding atmosphere.
Featuring Swiss Perfection and Sodashi cosmetics and treatments not found anywhere else in Prague, the AVA Spa offers guests the opportunity to sample traditional Czech-inspired baths, exclusive facials and signature spa rituals. The spa is open for both hotel guests and the general public.
"What makes AVA Spa unique to Prague is our select line of cosmetics and signature treatments," said Claudia Santos, Spa Manager at Four Seasons Hotel Prague. "We are especially proud of our spa rituals which include purifying baths, detoxifying massages and age-defying facials."
A selection of AVA Spa's cosmetic and treatment options
Swiss Perfection, available only at AVA Spa, features high-tech and high-touch exclusive anti-aging facials. The treatment consists of deep cleansing treatment masks, massage and customized aftercare using the unique Cellular Active IRISA technology device. Focused on immediate and lasting visible results, it encourages the production of new and healthy cells.
Sodashi is a chemical free Australian cosmetic line, formulated using a special combination of aromatherapy and Ayurvedic principles. Treatments using Sodashi include aromatic warm facial compresses that soften and exfoliate and transformational facials that increase firmness and give the face a youthful glow. Sodashi too is exclusive to the Four Seasons Hotel Prague spa.
Based on mineral rich waters, Omorovicza products include facials featuring Hungarian moor mud which detoxifies the skin and organic oats and wheat for a smooth finish.
Guests can treat themselves to a spa experience like no other at AVA Spa, thanks to the signature rituals personally formulated here. The Karlovy Vary Inspiration uses bath water infused with healing compounds to detoxify and purify the body. For a more intense detoxification, the Signature Detox begins with a Rhassoul steam bath and includes both a Sodashi Marine Mineral Body Scrub and contouring pink clay mask. A full body massage and special scalp and feet pampering complete the purifying process.
Senses will be soothed and a full body glow achieved following the Golden Ritual. This luxury Omorovicza treatment combines a full-body scrub to revitalize the skin; a soothing Bath Retreat; a relaxing Gold Body Massage and finally a divine anti-ageing Gold Lifting Facial. The Cellular Exclusive Lift Concept is a five-step Swiss Perfection lifting treatment that naturally lifts the skin and brings long term benefits. For guests who simply need to be revitalised, the La Bohéme Massage is inspired by the Czech national tree and uses detoxifying and regenerating linden blossom oil.
For those looking for an unforgettable gift for their loved one, Prague Romance is a special option. This ultimate couple's spa retreat in the Vltava suite begins with a visit to our Rhassoul steam bath, followed by a pampering Aromatherapy Massage. After relaxation is achieved in both body and mind, a Pure Radiance Facial Treatment completes the journey of total renewal.
AVA Spa is the epitome of luxury, renewal and beauty
The bespoke design was entrusted to architect Pierre–Yves Rochon.
"We used natural materials, specially designed furnishings and incorporated distinct features from the hotel, such as characteristic ceiling arches, tiling and stencilling," said René Beauchamp, General Manager at Four Seasons Hotel Prague. "We´d like to draw guests' attention to the tiling mosaics on the floor and chandeliers. I believe the AVA Spa will become a destination for relaxation in Prague, by both our guests and locals alike. We are proud to have been able to combine such modern services and amenities with local tradition." he added.
The AVA Spa at Four Season Hotel Prague will be the idyllic place to renew both body and soul. Reservations can be made by calling (+420) 221 427 830, email: spa.prague@fourseasons.com. Menu: www.fourseasons.com/prague/spa.
http://www.fourseasons.com/prague/
https://www.facebook.com/FourSeasonsHotelPrague
Twitter@FSPrague
Instagram FSPrague