Executive Chef Leonardo Di Clemente introduces new menu at CottoCrudo restaurant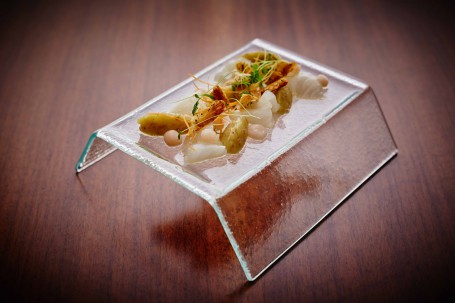 Native Italian chef with rich experience from different parts of the world creates new
specialties for CottoCrudo
 Leonardo Di Clemente fulfilled the position of Executive Chef at the Four Seasons Hotel Prague's CottoCrudo restaurant in October 2015. During these first few months, he has created a number of unique dishes based on the traditional Italian kitchen and on his longstanding experience throughout Italy, Switzerland, Great Britain and Japan. New delicacies now enrich the CottoCrudo's menu.
 Di Clemente comes from an Italian family of farmers, having grown up surrounded by fresh, local ingredients and a strong sense for traditional Italian cooking. He has maintained these core values throughout his entire career, and looks for new ways to enhance them with new culinary trends that appear across the gastronomic landscape.
 "I like creating meals based on traditional local ingredients to which I give a Mediterranean twist. An important part of my menu is fish and its careful preparation, for which I was inspired during my five years in Japan. I also focus on the crudo "raw" part of CottoCrudo restaurant where I apply the technics of processing raw fish," says Di Clemente.
 Di Clemente has enriched the CottoCrudo menu with a number of unique dishes such as Red prawns with cabbage salad, parmesan cheese and hazelnut; Halibut with eggplant caviar, grapefruit and lychee; Scallops with artichoke salad, umeboshi and vanilla mayo, and for the 'crudo' aspect, as starters: Sea bream tataki carpaccio with caviar, bacon crumble and clementine oil; Onsen poached egg with soft potato cream, porcini mushrooms and black truffle and Goat cheese praline with porcini mushrooms, brussels sprouts salad and horseradish. Among the main dishes are Duck confit raviolo, celeriac and cardamom sauce with hazelnut and raisin ragoût; Saffron risotto with roasted Sea bass, buffalo mozzarella and green pea; Roasted pork chop with truffled potatoes, celery dauphinois, mushrooms and parmesan sauce and Baked sea bass.
René Beauchamp, General Manager at the Four Seasons Hotel Prague, comments: "Leonardo has brought a new energy to the CottoCrudo restaurant. By combining traditional Italian cuisine and an innovative approach to the food preparation, he will move the restaurant concept towards new horizons and will offer guests a unique culinary experience."