Emirates Winter Flash Sale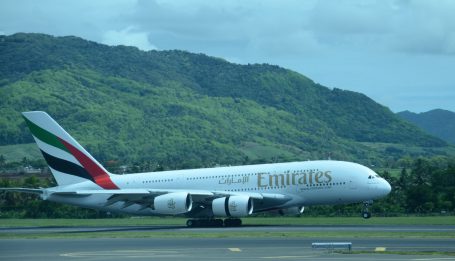 Emirates is having a winter flash sale on 18th February 2019. If you want to take advantage of the fantastic deals but are having a hard time figuring out where to go, Emirates have helpfully created a collection of exciting events to enjoy in some of their most popular destinations.
For art lovers, head off to Dubai for the official Dubai art season. "World Art Dubai" returns for its fifth year in April, bringing affordable contemporary art from all over the world. Whether you are a collector or simply an art enthusiast, you'll be sure to relish seeing the range of diverse, affordable and original art, with over 3,000 pieces of artwork ranging from $100-$20,000.
If you are looking for something a little more on the wild side, then Emirates suggests taking a flight to Bangkok, Thailand for the Songkran Festival in April. This festival of water is one of the most entertaining events of the year, involving a three-day water fight, with people participating from across the country.  You can expect drinking, music, dancing and, of course, a drenching.
During late April in Bali, food lovers from all over the globe gather for the Ubud food festival. This three-day culinary adventure with Indonesian food is Southeast Asia's most exciting culinary event, showcasing a diverse range of cuisines, innovative chefs and extraordinary local produce. If you're in the food industry or are simply a food lover, then you're sure to find many tasty treats among Ubud's live cooking demonstrations, special events, workshops, foodie tours, markets, live music, and movie screenings.
If the grey winter skies are leaving you craving a burst of colour, book a flight to Mauritius to celebrate the Holi festival on 20th March. To mark the legend of Holika, bonfires are burnt on the eve of Holi festival and the day itself is marked with explosive traditional colours and colour guns across large grounds, set against music and drinks. More adventurous people may end up using water balloons for a fun fight in Mauritius's most colourful festival.
Also in March, Hong Kong goes into full bloom with the vibrant Hong Kong Flower show. If you love nature and flowers, this event is a 'must-see'. Amidst the towering skyscrapers, a bright and fragrant oasis appears, filled with elaborate displays of flowers and landscaped areas created by local and international organizations.
For sports enthusiasts, catch a flight to Brisbane and while you are exploring Australia, make sure to stop off in Sydney for the Emirates Australian Open in early December, Australia's oldest and most storied professional golf event. If you are feeling inspired by the professionals, Emirates' generous baggage allowance means you have plenty of space to pack your own clubs.
Don't waste any time, start planning the adventure of a lifetime, and fly with us to any of these exciting destinations. For Flash Sale details check www.emirates.cz.