Emirates ups investment in wine as part of long-term strategy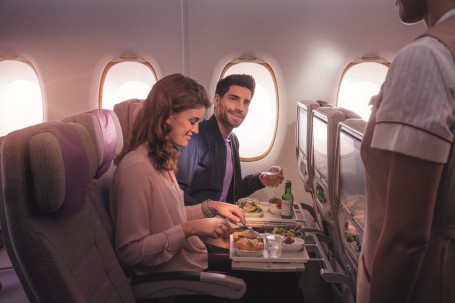 Over US$140 million spent on wines across all cabins in 2015

DUBAI, UAE, 6 April 2016 – Emirates continues to invest heavily in its world-class wine programme. In 2015, the airline purchased a record of over 13 million bottles of wine worth US$140 million – more than twice the value of wine purchases in the previous year. The wines are for customers across all three cabins, and most will only be served on board in seven to 10 years.
The increasing investment is in response to the airline's expanding network, and reflects its commitment to offering customers the best possible product. In 2015, Emirates' customers consumed 11.4 million bottles of wine across all classes, with 10 million single-serve bottles in Economy Class alone. This was a 27% increase from the year before, when nine million bottles of wine were consumed across all classes.
"In every aspect of our business, our aim is to provide the best experience for our customers and we have curated a wine programme that is reflective of that promise. Over the years, we've built a wine programme that has garnered the interest of exclusive vineyards in the world, and we are proud of the fact that our wine lists are comparable to what you might find in a top restaurant in the best cities around the world," said Sir Tim Clark, President, Emirates Airline.
He added: "Many of our customers have expressed their surprise and delight at the variety and quality of wines that Emirates offers on board, and they wonder how on earth we manage to procure such rare or exclusive vintages. The answer is long-term planning and investment."
At the heart of Emirates' wine strategy is its unique approach to purchasing exceptional wines en primeur, years before they are released to the market, and then allowing these vintages to mature and reach their potential before serving on board. While most airlines source their wines through brokers or tenders, Emirates' own team of wine connoisseurs has built direct relationships with some of the world's most prestigious vineyards to handpick and secure the most exclusive and rare wines for its customers.
Since 2006, Emirates has invested US$690 million on wines, some of which will only be ready for drinking in 2025. The Emirates wine cellar, the largest of any airline, currently stores 2.2 million bottles of vintage wines.
Emirates and Bordeaux
Of the 2015 wine purchases for First Class and Business Class, close to half – 1.8 million bottles – came from the Bordeaux region. Bordeaux wines have always been a mainstay of the Emirates wine offering with 60% of the red wine in First Class and Business Class coming from the region.
"Bordeaux wines are the core of our offering as they pair really well with the extensive menus we have on board – from white and red meats to vegetarian options. We choose these wines not only for their flavour, but also because they maintain their quality in the cabin environment," said Sir Tim.
Emirates has also expanded its Bordeaux offering, turning its focus to white wines from the region. For the first time this year, Emirates has purchased wines such as Pavillon Blanc du Château Margaux, the white wine variant of Château Margaux, as well as vintages of La Clarté de Haut-Brion – known to be rare and exclusive due to its small scale production. Other white Bordeaux wines that will be added to the airline's wine list include Château Smith Haut Lafitte and Château Malartic-Lagravière.
Emirates expands wine offering
In the last year, Emirates added 10 more wines on offer each day, and now has 70 different champagnes, wines and ports on its flights on an average day in all classes across its international network of over 150 destinations.
Sir Tim said: "Very few producers can meet the volumes that we need, at the quality that we want. So we made the decision early on that we would rather go for quality and buy in smaller parcels if we have to, and go direct to the vineyards and producers. It's a massive logistics exercise to serve 70 different labels on any given day across a network our size, but it means our customers and frequent flyers in particular can always look forward to something new and exciting to sample. The positive feedback we've been getting is testimony to the success of our programme."
Emirates has also placed great importance on wines from Burgundy and purchases directly from exclusive Grand cru vineyards such as Chevalier-Montrachet, Charmes-Chambertin and Échezeaux.
The airline's long standing relationships with wine producers has meant access to some of the most rare and exclusive wines. From the Corton-Charlemagne Grand Cru region alone, considered to be amongst the finest of Burgundy's white wines, Emirates purchased 2,000 cases in 2015 – equivalent to 10% of the total production in the region.
Other recent additions to the Emirates wine cellar include fine Italian wines such as Solaia and Ornellaia for First Class and the highly in-demand Super Tuscan wine Tignanello which will be added to the Business Class offering in the coming years.
Emirates continues to purchase from the main wine producing regions of the world including Australia, New Zealand, Argentina and South Africa to feature in the regionally tailored wine lists.
The Emirates Wine Story
Emirates' carefully curated wine selection and its wine strategy are documented in a new short film found on its award-winning inflight entertainment system, ice Digital Widescreen, and showcases its relationships with the world's best vineyards. Watch it on ice or online at https://youtu.be/rqCzCKNb6y4.