Emirates Goes Non-Stop Dubai-Auckland from March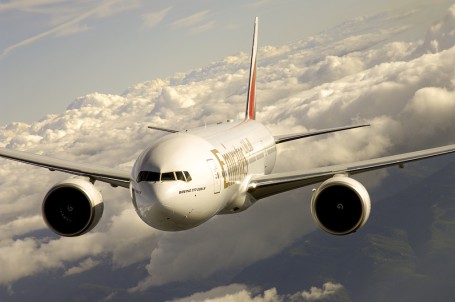 DUBAI, U.A.E., 2 February 2016: Emirates today announced that it will start its first non-stop service from Dubai to Auckland on 1 March 2016, bringing many of its 38 European destinations and cities within just one-stop range of New Zealand through direct connections in Dubai.
The new service will be in addition to the award-winning airline's existing flights, meaning that Emirates will then have five services daily into New Zealand – three A380 double-decker services to Auckland via Australia, a daily Christchurch service with a Boeing 777-300ER, and the new non-stop service operated with a Boeing 777-200LR.
The new service will bring New Zealand much closer than at present, with an estimated flight time of just under 16 hours from Dubai to New Zealand and 17 hours, 15 minutes in the other direction, cutting journey times by almost three hours each way.
"Having just one stop on the long haul to New Zealand will make the journey quicker and more comfortable. This will be a boon to many business people, tourists, expatriate New Zealanders and other travellers in Europe, parts of Africa and the Middle East," said His Highness Sheikh Ahmed bin Saeed Al Maktoum, Chairman and Chief Executive, Emirates Airline and Group.
"Tourists, in particular, will now have more options – travelling to Auckland with a stopover in Australia on one of our three daily A380s, flying non-stop direct into Auckland, or flying to the South Island on our daily Christchurch service. New Zealand currently hosts about three million tourists a year and we want to do our part to cater for that flow and grow that figure above current expectations.
"Operating a non-stop service between Dubai and Auckland has been in our sights for some time, dependent on availability of suitable aircraft as we rapidly expand our global network of destinations, and frequency of flights and capacity on existing routes. We are particularly delighted that we can now bring this exciting plan to fruition."
HH Sheikh Ahmed said that an aggressive fleet growth and renewal programme which is rapidly expanding both its A380 and Boeing 777 numbers had meant that the right sort of aircraft for the ultra-longhaul non-stop flight from Dubai was now available.
"Emirates started operating in New Zealand with a double-daily Auckland service in August 2003, adding a third daily Auckland service a few months later, and then providing a daily Christchurch service in 2004. Progressively from 2009 onwards, we have upgauged the Auckland services to our flagship A380s and today these fly via Sydney, Melbourne and Brisbane respectively to Dubai and beyond, and reverse.
"Auckland as the major gateway is now a thriving and attractive city of 1.5 million and, together with tourism and business traffic, we are sure that it will easily sustain the introduction of the extra flight."
With the introduction of the non-stop service, Emirates will then be flying more than 2,000 seats a day in each direction on New Zealand services.
The Boeing 777-200LR aircraft that will operate the new, non-stop route are purpose-built for ultra-longhaul flights, carrying up to 266 passengers. Like Emirates' other New Zealand flights, the aircraft will offer three cabin classes: eight First Class suites, 42 lie-flat Business Class seats and 216 comfortable Economy Class seats.
The flights will feature Emirates' gourmet meals and fine wines, and more than 2,000 channels of entertainment and information will be available on large, individual screens. Passengers will have the airline's usual generous free baggage allowances – 30kg for Economy Class, 40kg for Business Class, and 50kg for First Class.
New Zealand exporters will also benefit from the new service, being able to access more capacity through Dubai, one of the world's major cargo hubs, particularly of benefit with perishable goods for markets in the Middle East and Africa regions. New Zealand is renowned for its high quality produce including dairy products.
Operating eastbound as flight EK 448, the service will depart Dubai at 10:05am and arrive in Auckland the following day at 11:00am (local summer time). Eastbound the new flight will offer short connections in Dubai from 24 of Emirates' destinations in Europe. On arrival in Auckland, passengers will be able to connect to a number of other points on codeshare partner Jetstar's domestic flights.
Operating westbound as flight EK 449, the non-stop service will depart Auckland each night (local summer time) at 9:30pm, arriving in Dubai the following morning at 5:45 am (local time), connecting with Emirates' flights to 38 Europe destinations, as well as other destinations in India, Africa and the Middle East.
Travellers currently booked on existing services to Dubai and beyond will be able to switch to the new service without additional fees (subject to seat availability).