Emirates to light up Karlín at the Signal Festival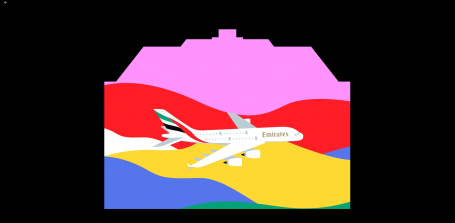 Emirates is set to light up Karlin at the Signal Festival in Prague, taking place from 10 – 13 October 2019. The Emirates light installation will take visitors on an immersive and enchanting journey across its extensive network. The four day digital art festival is the largest cultural event in Czech Republic and a unique integration of art, city space and modern technology.
Showcasing creative light shows in various locations across the city – the festival turns the historical centre of Prague, (Mala Strana, Old Town and Karlín) into a whimsical landscape of light installations, 3D video mapping and projections using cutting edge technology.
Emirates has partnered with Signal Festival to display an exceptional 3D video-mapping projection in the historic district of Karlin. The captivating light show will take the audience on a memorable journey across its network via Dubai. Behind a rainbow colour scheme, the light show takes off with the iconic Emirates A380 departing Prague to Dubai and travelling onwards to Sydney, Thailand, and Bali before arriving in the Maldives. The one minute video will be projected 80 times over the course of four days at a school building Lyčkovo náměstí in Karlín.
Emirates is the world's largest international airline with a global network of 158 destinations in 85 countries across six continents. Passengers across all cabins will enjoy over 4,500 channels of movies, TV shows and programmes on ice – the airline's award winning in-flight entertainment system, as well as the warm hospitality of the airline's multinational cabin crew, including more than 200 Czech nationals. Customers can indulge in regionally inspired meals and complimentary beverages as well as stay connected to family and friends during the flight by using up to 20 MB of complimentary Wi-Fi.
Emirates currently connects Prague to Dubai with two flights a day utilizing the iconic Emirates A380 and Boeing 777-300ER aircraft. Emirates flight, EK140, departs Prague at 15:55 pm and arrives in Dubai at 23:50 pm local time; the return flight, EK 139, departs Dubai at 8:35 am and arrives in Prague at 13:00 pm local time. The second daily flight, EK 138, departs Prague at 21:35 pm and arrives in Dubai at 5:30 am the following day; the return flight, EK137, departs Dubai at 15:30 pm and arrives in Prague at 19:55 pm local time.