Emirates to launch services to Santiago de Chile via Sao Paulo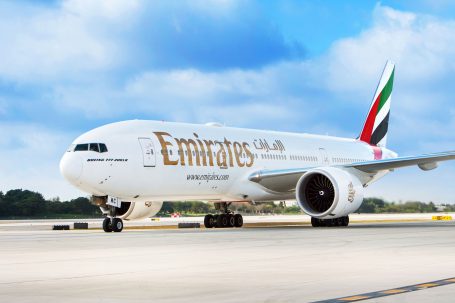 Airline's fourth South American passenger route will be served with five weekly flights
New service will see Emirates fly 12 times a week to Sao Paulo
Passengers can now travel between Chile and Brazil with Emirates
Emirates, the world's best airline according to TripAdvisor 2017, today announced its plan to launch a new, five times a week, service from Dubai to Santiago International Airport (SCL), via the Brazilian city of Sao Paulo, starting on July 5, 2018.
The new service will see Emirates fly an additional five times a week to Sao Paulo, complementing the airline's existing daily A380 flight between Dubai and Sao Paulo. In total, Emirates will now fly 12 times a week to Sao Paulo. Emirates' Santiago flight will be a linked service with Sao Paulo, meaning that customers in South America can now travel between the two cities in unprecedented style and comfort. Citizens from both Brazil and Chile only need ID cards to travel to either country.
The new route will be operated with a two-class configured Boeing 777-200LR which offers 38 Business Class seats in a 2-2-2 configuration and 264 seats in Economy Class. The new 777 flight will also offer up to 14 tonnes of capacity for cargo, opening up access to more global markets for Chilean exports such as fish, seafood, cherries, flowers and general perishable goods.
Commenting on the new Emirates route, Sir Tim Clark, President Emirates Airline, said "The start of our operations to Chile underlines our commitment to South America with our fourth destination on the continent and another five flights to Sao Paulo. We are pleased to add a destination that has been in strong demand from our customers and look forward to working with stakeholders in Chile to provide our unique product and award-winning service to passengers there."
Flight details and connections to Emirates' global network of over 155 destinations
Flight EK263 will depart Dubai on Tuesdays, Thursdays, Fridays, Saturday and Sundays at 09:05hrs local time, arriving in Sao Paulo at 17:00, before departing again at 18:30 and arriving into Santiago at 21:40 on the same day. The return flight EK264 will depart Santiago on Mondays, Wednesdays, Fridays, Saturday and Sundays at 01:10 local time, arriving in Sao Paulo at 05:55. EK264 will depart once again from Sao Paulo at 07:45 bound for Dubai where it will arrive at 05:15 the next day.
Timings of the new service are scheduled to allow for seamless connections to many Asian and Middle East routes, via a convenient stopover in Dubai. Passengers travelling from Sao Paulo will now benefit from a morning departure in Sao Paulo and morning arrival in Dubai, making connecting to new destinations Southeast Asia, China and Middle East more convenient.
Chile is a popular destination for business and leisure travellers around the world, in particular from Asian destinations such as China, South Korea, Japan, Thailand and India. Chile is also home to large Chinese and Middle East communities that can now take advantage of the new service.
Flying Emirates to Chile
Santiago, the first destination in Chile to be served by Emirates, is the largest city of Chile accounting for nearly half of the nation's GDP. Chile's capital is developing its reputation for being an incubator for major universities, large global companies and budding start-ups thanks to a growing population of well-educated young professionals. Strengthening its position towards a more productive, technology-intensive economy many global companies and conglomerates have their headquarters or regional offices in the city centre. Chile is also the world's largest producer of copper.
Chile is one of the most stable and prosperous nations in South America filled with stunning landscapes, historic beauty, local charm and delectable foods. Tourism in Chile has seen a sustained growth over the last few years with 5.6 million international visitors visiting the country in 2016 compared to 4.43 million in 2015. Chile has many different adventures to offer tourists: stargazing in the driest desert in the world, millennial glaciers in the southernmost part of the planet, enchanted forests, and lakes located at the foot of massive volcanoes. Chile is also one of the top producers and exporters of wine in the world.
Visiting Dubai
Passengers flying with Emirates can book a Dubai Stopover package which will allow them to stay in Dubai for a few days on their way to one of over 155 destinations.
Dubai offers everything from desert outings to beaches to family-friendly hotels, and even ski slopes at the Mall of the Emirates. Having become the fourth-most-visited city in the world, Dubai is known for its eclectic mix of offerings, from futuristic architecture to vibrant traditional culture and diversity.
The city offers everything a visitor could want, from shopping at some of the largest malls in the region to dining options which will spoil anyone for choice. Dubai has seen the addition of several new attractions in the last year. Among the latest must-see places in the dynamic city are Dubai Parks and Resorts which features three distinct theme parks – Motiongate™, Bollywood Parks™ and LEGOLAND®. Spread over 25 million square feet, and equivalent to 420 football fields, the parks combined have more than 100 rides and attractions. Other tourist hot-spots inaugurated in 2016 include IMG World of Adventures – the largest indoor theme park in the world, Dubai Safari Park – a 119 hectare wildlife park home to over 2,500 animals and the Dubai water canal – a 3.2km long waterway which winds its way to the Arabian Gulf from the Creek in Old Dubai.
All travellers can take in the sights of the Burj Khalifa, the world's tallest building, the Dubai Fountain which dances to a set of music for onlookers, and of course, experience desert camel rides and dinner under the stars at a Bedouin style camp.