Emirates to deploy its latest Boeing 777-300ER to Malé from 1st June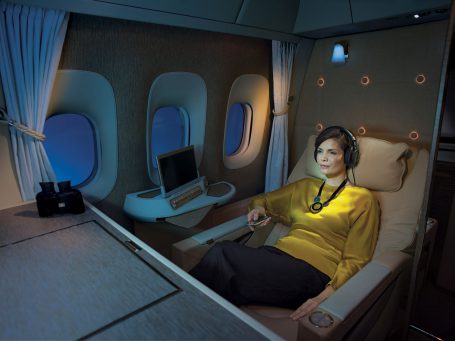 Emirates has announced the deployment of its latest Boeing 777-300 ER aircraft fitted with the 'Game Changer' First Class suites on its Dubai- Malé route from 1st June, 2019. The Maldivian capital will become the first destination in the South Asian region to be served on a regular basis by the new aircraft.
Passengers travelling to and from the idyllic archipelago on Emirates flights EK658 and EK659, one of three daily non-stop services* connecting Malé, with Emirates' hub in Dubai, will be able to experience the fully-enclosed First Class private suites inspired by luxury automaker Mercedes-Benz.
"The Maldives has become an increasingly popular destination for Emirates, attracting premium travelers, honeymooners and families from around the world. Introducing the new Boeing 777 with the state-of-the-art First Class suites on this route reaffirms our longstanding commitment to Malé. It's also a testament to our ongoing efforts to provide our travelers across the network with an unparalleled experience, demonstrating what Emirates truly means when it invites customers to Fly Better," said Ahmed Khoory, Emirates' Senior Vice President, West Asia & Indian Ocean.
Travellers to and from the Maldives can experience the new Emirates Boeing 777 product on flight EK658 departing Dubai daily at 0420hrs and arriving in Malé at 0930hrs. The return flight EK659 leaves Malé at 1100hrs, arriving in Dubai at 1400hrs.
From First Class through to the Business and Economy Class cabins, the latest Emirates Boeing 777 aircraft features ergonomically designed seats, multi-million dollar upgrades and the latest version of the ice inflight entertainment system across all cabins. Designed with an emphasis on exceptional customer comfort and ultimate privacy, Emirates 'Game-Changing' Boeing 777 private suites feature floor-to-ceiling sliding doors and ultra-modern design features against cool grey colourscapes. Offering up to 40 square feet of personal space each, the spacious, fully-enclosed private suites are laid out in a 1-1-1 configuration, for a total of six suites.
The new suites include seats that recline into a fully flat-bed that manoeuvres into multiple positions  and can be placed in a "zero-gravity" state inspired by NASA technology, for a feeling of weightlessness while flying. Passengers can also choose from a multitude of lighting colours and adjust the temperature of their suites for a fully customisable experience.  The industry's first virtual windows can be experienced by customers seated in suites located in the middle aisle. The virtual windows project a view from outside the aircraft using real time fibre-optic camera technology.
The Business Class seats are inspired by the interior of a modern sports car, and feature an ergonomically designed headrest with a sleek look and feel. Business Class passengers can also customise their experience with touchscreen controls for their seat and inflight entertainment system and adjust their personal lighting options. The cabin also includes privacy panels between seats, a shoe stowage area, footrest, and a personal mini-bar.
The Economy Class cabin features a colour palette of soft greys and blues. The seats come with full leather flexible headrests with side panels that can be adjusted vertically for optimum support.
Emirates currently operates its latest Boeing 777-300ER aircraft fitted with the 'Game Changer' First Class suites to Brussels, Geneva, Vienna, Tokyo (Haneda), London Stansted and Riyadh and has announced it will deploy the aircraft on flights to Kuwait from 1st June 2019.
Emirates is the world's largest operator of the Boeing 777 family of aircraft, flying over 160 of these modern and efficient wide-bodies to six continents from its Dubai hub.