Emirates to carry over 6,500 passengers to Dubai for Amway's largest leadership gathering, and offer bespoke travel experience for participants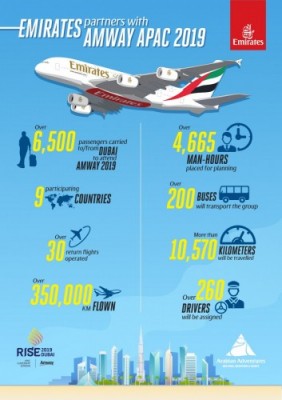 The airline has partnered with Amway to connect participants from nine countries to Dubai for the direct seller's first ever Asia Pacific Leadership Seminar
The highly anticipated conference reinforces Dubai's position as a leading MICE destination
Emirates, the world's largest international airline, has partnered with Amway, the world's largest direct selling business, on the latter's APAC Leadership Seminar 2019 taking place at the Dubai World Trade Centre (DWTC) on 13th December 2019. Emirates will play a vital role of bringing people together to attend the first ever Asia Pacific Leadership Seminar – carrying over 6,500 distributors and company representatives to Dubai.
The "RISE Dubai 2019" seminar will recognize and award achievements of Amway independent business owners over the past year. The one-day business conference will welcome Amway's top management, which will be the largest gathering of international Amway leaders in its 60 years of history. To mark the significant milestone and to ensure the group travel in style – Emirates will be implementing various initiatives on ground and in the air.
Adnan Kazim, Chief Commercial Officer for Emirates Airline said: "We are very pleased to partner with Amway on its first ever Asia Pacific Leadership Seminar taking place in Dubai next month. More than 6,500 participants from nine countries will be flying better on Emirates to attend RISE Dubai 2019. We look forward to welcoming the group on-board and to showcasing our world-class products and services – offering customers a seamless end to end travel experience. Dubai is an ideal destination for international conferences and together with our partners, we are thrilled to connect people and communities to and through our modern hub."
Gan Chee Eng, Asia Regional President & Chairman of Greater China said: "We are looking forward to the opportunity to connect with so many amazing Amway Business Owners from across Asia Pacific all in one location. Our collaboration with Emirates enables us to offer exclusive experiences for our Business Owners to recognize their amazing achievements this year."
Fly Emirates, Fly Better
Emirates will operate over 30 commercial return flights from nine countries in order to carry the sizable group to Dubai. Amway participants travelling from Japan, Korea, Australia, Thailand, Vietnam, Malaysia, Singapore, Philippines and Indonesia will enjoy Emirates' world-class products and services on-board including bespoke features and accessories built in by the airline to ensure customers receive a seamless end-to-end journey.
The airline has assigned extra resources in dedicated airport counters across all markets to ensure a smooth check-in process for the event participants. Once on-board, each assigned seat will display a branded Amway headrest. Customers will be welcomed with a special announcement and branded Amway cupcakes as well as birthday cakes for those celebrating on-board.
Customers across all cabins can enjoy over 4,500 channels of entertainment on Emirates' award-winning inflight entertainment system, ice, including the latest movies, music, TV shows and programmes available in over 40 languages.
To promote Amway APAC Rise Dubai 2019, Emirates will be launching a dedicated channel on ice available on all of its 268 fleet of aircraft. The channel will provide more information on the event as well as showcase interviews with senior executive Amway leaders. To learn more about the seminar, customers can also read exclusive content published in Open Skies – the airline's inflight magazine.
Passengers on-board can indulge in regionally inspired cuisine prepared by gourmet chefs. All flights with Amway passengers will have an exclusive set menu and cocktail options created by Amway mixologist, Bruno Vanzan, including the bespoke "Amway Riser by Bruno Vanzan" – a perfectly blended cocktail infused with orange zest.
Customers will feel at home with the warm hospitality of Emirates' multicultural cabin crew from more than 135 nationalities, speaking more than 60 languages. In support of Amway, Emirates cabin crew will exclusively use Artistry – a top selling premium beauty brand – to create the iconic, "Emirates signature look" during the seminar. Visitors can first-handedly learn tips from cabin crew on skincare routine – using the Artistry cleanser and toner – as well as beauty tricks, using foundation, eyeliner and as a final touch, the distinctive red lipstick.
Arabian Adventures Meetings, Incentives and Events
Arabian Adventures MICE, part of the Emirates Group, has also been appointed to manage transportation on-ground and to ensure the efficient movement of participants across Dubai. On December 13th – over 200 buses will travel more than 10,570 kilometers, and over 40 private cars will be reserved to ensure the smooth transfer of guests to and from DWTC from 15 hotels across the city. In total, an operations team of 75 staff across various roles, more than 260 drivers and a total of 4,665 man-hours will be placed to ensure the safe planning and swift transport of the group.
Destination Dubai
Dubai is a leading MICE destination with a bustling calendar of events and exhibitions year-round – connecting regional and international visitors alike. In 2018, approximately 16 million tourists visited the city and that figure is projected to grow to 20 million in 2020.* Emirates plays a pivotal role in connecting passengers to and from Dubai, stimulating growth for trade, tourism, and opening further opportunities for inward investment.
Dubai's world-class infrastructure, cutting-edge technology, and strong capabilities to host a wide range of events has made the city an ideal choice for international meetings and conferences. The Dubai Business Events (DBE) – Dubai's official convention bureau – recently announced successful bid wins for 118 events to be hosted in Dubai over the coming years, attracting over 75,000 delegates from around the world – including The Amway China Leadership Seminar 2020.*
Emirates' provides connectivity to more than 150 destinations in 85 countries to and from Dubai – further strengthening the city's position as a pivotal business hub and a destination of choice for business and leisure events.
The Amway Leadership Seminar APAC Rise Dubai 2019 will allow participants to meet motivational speakers and network with like-minded entrepreneurs. The event is also an opportunity for visitors to explore Dubai's many leisure offerings and rich cultural heritage.
Emirates is an integral partner of the Amway Leadership Seminar APAC Rise Dubai 2019 – connecting people, communities and ideas in its modern hub, Dubai.
*Source: Department of Tourism and Commerce Marketing (DTCM)