Emirates re-opens worldwide lounges beginning with Cairo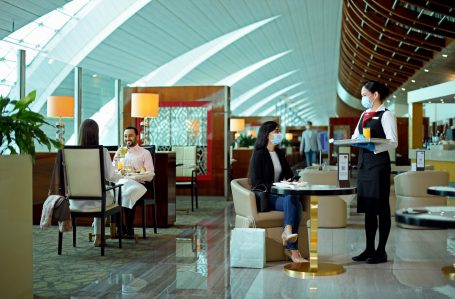 Emirates is re-opening its lounges around the world beginning with the Emirates lounge in Cairo International Airport. In the coming weeks, Emirates' customers can look forward to once again enjoying Emirates lounge services in other destinations including New York's JFK International and Manchester Airport.
The airline has redesigned its lounge offering and introduced additional health and safety measures. The new protocols will be rolled out in each lounge.
The buffet offering will be changed to an a la carte service with contactless menus activated by QR code. Throughout the day, lounge staff will sanitise each seat and table after customers leave. In addition, the lounge will be sanitised and fumigated regularly.
All employees working in the lounge will be wearing masks and social distancing protocols are in place throughout the lounge. Seating capacity will be halved as every other sofa seat is left unoccupied. To ensure food safety, catering staff will be wearing masks, gloves and personal protective equipment (PPE). Newspaper, magazines and other reading materials will not be available to minimise the risk of infection by touch.
The Emirates lounge in concourse B in Dubai International airport is also open with a redesigned service and designated First Class area. In the recent months, Emirates has been introducing services aimed at providing customers with a safe and seamless airport experience. The integrated biometric path at Dubai International airport is the latest in a host of initiatives by Emirates, allowing customers to go from check-in to boarding purely by facial recognition.
Emirates continues to gradually reinstate its signature services after rigorous review and careful redesign to ensure the health and safety of customers and employees.
On board, the celebrated A380 Onboard Lounge and Shower Spa have resumed operations, while Emirates' onboard dining experience has returned to its signature service while observing strict hygiene protocols.
Emirates customers can travel with peace of mind with the airline's flexible booking options and multi-risk travel insurance including COVID-19 cover with every flight. Emirates has also implemented a comprehensive set of measures at every step of the customer journey to ensure the safety of its customers and employees.
Flexibility and assurance: Emirates' booking policies offer customers flexibility and confidence to plan their travel. Customers who purchase an Emirates ticket for travel on or before 31 March 2021, can enjoy generous rebooking terms and options, if they must change their travel plans. Customers have options to change their travel dates or extend their ticket validity for 2 years. More information here.
Travel with confidence: All Emirates customers can travel with confidence and extra peace of mind with the airline's industry first, multi-risk travel insurance and COVID-19 cover. This generous cover is offered by Emirates on all tickets purchased on or from 1 December 2020, at no cost to customers. In addition to COVID-19 medical cover, this latest offer from Emirates also has provisions for personal accidents during travel, winter sports cover, loss of personal belongings, and trip disruptions due to unexpected air space closure, travel recommendations or advisories, similar to other multi-risk travel insurance products. More information here.
Health and safety: Emirates has implemented a comprehensive set of measures at every step of the customer journey to ensure the safety of its customers and employees on the ground and in the air, including the distribution of complimentary hygiene kits containing masks, gloves, hand sanitiser and antibacterial wipes to all customers. For more information on these measures and the services available on each flight, visit: www.emirates.com/yoursafety.