Emirates orders two additional A380 aircraft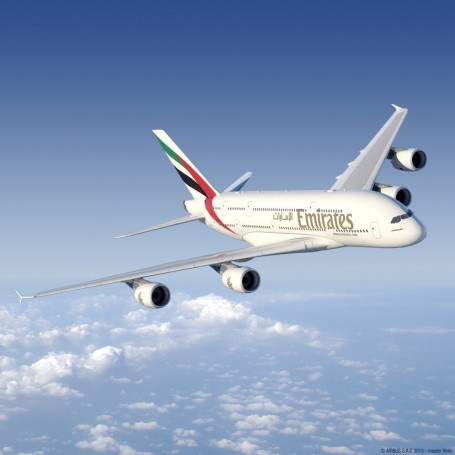 DUBAI, U.A.E, 14 April 2016 – Emirates today announced it has placed an order with manufacturer Airbus for an additional two new A380 aircraft, to be delivered in the 4th quarter of 2017.
Emirates already operates the world's largest fleet of Airbus A380s, with 75 in service and a further 65 on firm order. The additional two aircraft, to be powered by Rolls Royce Trent 900 engines will take Emirates' total A380 order book to 142.
Sir Tim Clark, President Emirates Airline said: "From now until the end of 2017, Emirates will retire 30 older aircraft from our fleet. At the same time, to meet our growth expectations, we will receive delivery of 24 new Boeing 777, and 33 new A380 aircraft including these two additional A380 aircraft just ordered. This is in line with our strategy to operate a modern and efficient fleet and offer the best possible experience for our customers."
He added: "We've always been open about how the A380 has been a big success for Emirates. It's a boon for our operations to slot constrained airports and we get a lot of positive feedback from our customers. In fact, demand from customers for our A380 product is growing, as we expand our A380 network and more travellers have had the opportunity to experience it first-hand."
The two new aircraft will be in two-class configuration and feature Emirates' industry-leading products including, the iconic Onboard Lounge where Business Class passengers can socialise at 40,000 feet, Emirates' award-winning inflight entertainment ice with over 2,500 channels and free Wi-Fi.
Prague, Taipei and Vienna will soon become destinations on the Emirates route network served by Emirates A380s, after which the airline will have 42 destinations across the globe served by its flagship A380 aircraft.
Airbus estimates that Emirates' A380 orders support the employment of 41,000 direct, indirect and induced jobs in Europe. About 70% of these jobs are split equally between France and Germany, with the UK having 17% and the remaining 5,000 jobs in Spain. These are high-skilled jobs and impact a high-value supply chain, creating a significant multiplier effect in the countries where Airbus has aircraft production facilities.