Emirates launches 'out of this world' interview with astronaut live from space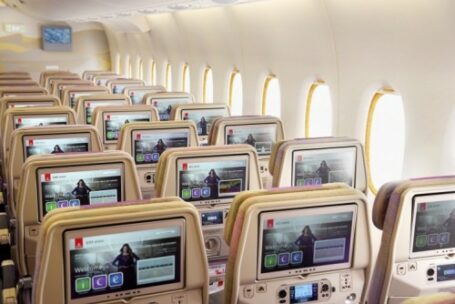 Going to the ends of the Earth in a quest for the best entertainment is nothing new for Emirates ice, and this time the award-winning inflight entertainment system will feature a live interview with UAE astronaut Dr Sultan AlNeyadi, chatting about his 'inflight experience' in space – as he fearlessly floats 400 kilometres above our planet.
Sprinkling some stardust on the ice experience, the interview will be live on the Emirates World Channel from 1 September 2023, the same day the esteemed astronaut will begin his journey home to Earth, having completed a six-month science mission aboard the International Space Station (ISS). The journey home from space is expected to take up to 16 hours, just one hour shorter than Emirates' longest flight duration – 17 hours from Auckland to Dubai. The interview for Emirates ice was conducted from the Mohammed Bin Rashid Space Centre (MBRSC) Mission Control Centre, via NASA in Houston, through a space to ground communication link.
Interviewed by Emirates SVP of IFE & Connectivity – Patrick Brannelly, the discussion eclipses expectations as Dr AlNeyadi fondly describes his inflight meals, how he stays connected to family and the entertainment available onboard the spacecraft, with Patrick drawing parallels with the Emirates experience. At an incredible ISS altitude of 400 kilometres and an orbital speed of 28,000 kilometres per hour, the live footage is interspersed with Dr AlNeyadi enjoying his coffee in microgravity, conducting experiments, and strapping in for his daily workout where he overlooks spectacular views of planet Earth and takes in the weather conditions of our world at a glance.
Emirates has gravitated towards the journey of Dr AlNeyadi, since he rocketed to fame as an Emirati astronaut and the first Arab to serve on the ISS for a 6-month mission, as part of Expedition 69, as well as being the first Arab Astronaut to perform a spacewalk. Emirates was honoured to connect with one of the UAE's national heroes and collaborate on this piece of history-making content on ice.
Launched onboard in 2003 with 500 channels, Emirates ice has been making a big bang for award-winning and world class entertainment for the last 20 years. The IFE system now offers more than 6,500 channels of on-demand entertainment, 80 Academy Award® winning films, over 2,000 movies, 650 TV shows, and 4,000 hours of music, podcasts, and audiobooks across 40 languages, in addition to unmatched content like exclusive interviews live from space. In this case, the sky is not the limit for Emirates ice.