Emirates Introduces Attractive Early Booking Fares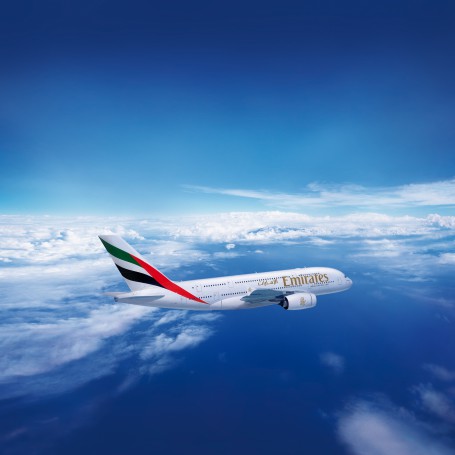 Save up to 35,600 CZK on Business Class travel
Example return fares: Dubai from 47,190 CZK – Taipei from 64,490 CZK – Sydney from 96,490 CZK
Emirates has this week announced the launch of its new Business Class early booking discounts, enabling passengers to travel the world in style and comfort while making great savings on Business Class fares. The new offer is bookable now, has year-round validity and is available to all destinations within the airline's global network.
The favourable new rates open up to even more travellers the chance to enjoy Emirates' renowned Business Class travel experience. In addition to the on-board product and high level of comfort, Emirates Business Class travel also provides many complimentary added-value features including chauffeur-drive service, access to exclusive Emirates airport lounges, a generous 40kg baggage allowance, Bvlgari amenity kits on night flights and collecting Miles with Emirates Skywards, the carrier's frequent flyer programme.
The discounts applicable depend on the length of time tickets are purchased in advance: 30 to 59 days, 60 to 89 days and 90 days plus. The discount level can be different depending on the destination, with customers having the chance to save up to 35,600 CZK.
The new Business Class offer from Prague starts, for example, to Dubai from 47,190 CZK to popular long-haul destinations like Sydney or Johannesburg from 96,490 CZK and 67,190 CZK, respectively. The vibrant cities of the Far East can be reached in the comfort of Emirates' full-flat bed seats from 52,990 CZK to Hong Kong, from 54,190 CZK to Shanghai or from 64,490 CZK to Taipei.
All prices above are for return flights in Business Class per person and include all charges and fees. The special fares are subjects to availability with terms and conditions applicable. They can be booked online at www.emirates.cz, by phone at 239 016 320 or through travel agents. Travel agencies may charge different service charges.
Emirates is the largest operator worldwide of Airbus A380s and Boeing 777s, both very popular aircraft amongst passengers with a multi-awarded Business Class cabin product. With the Emirates A380, the airline redefined Business Class travelling with new-generation mini pods with lie-flat seats, private mini bar and direct aisle access as well as the exclusive A380 Onboard Lounge on the upper deck where First and Business Class passengers can socialise or relax during their flights. Passengers in all classes have access to the 'ice' inflight entertainment system, which features over 2,500 channels of on-demand entertainment. The latest technology allows staying connected throughout the flight with free high-speed Wi-Fi access as well as mobile phone and data services.
The Emirates Prague-Dubai route, serviced by an iconic Emirates A380, operates as EK 139, departing Dubai at 0905hrs and arriving in Prague at 1325hrs. The return leg operates as EK 140, departing Prague at 1555hrs and arriving in Dubai at 2355hrs.