Emirates Group Announces 27th Consecutive Year of Profit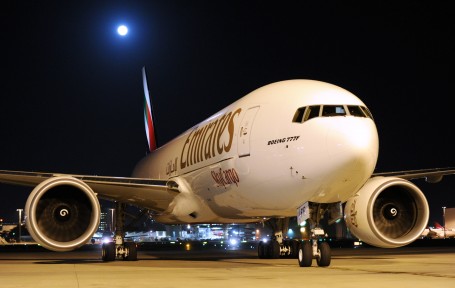 DUBAI, UAE, 11 May 2015 – The Emirates Group today announced its 27th consecutive year of profit and steady growth across the company, ending the year in a strong position despite the many global and operational challenges during this period. The financial year ending 31 March 2015 also marked the achievement of new capacity milestones at both Emirates and dnata, as the Group continued to expand its global footprint, and strengthen its business through strategic investments.
Released today in its 2014-15 Annual Report, the Emirates Group posted an AED 5.5 billion (US$ 1.5 billion) profit, up 34% from last year. The Group's revenue reached AED 96.5 billion (US$ 26.3 billion), an increase of 10% over last year's results, and the Group's cash balance remained strong, growing to AED 20.0 billion (US$ 5.5 billion).
"2014-15 was a turbulent year for aviation. The fall in oil prices provided cost relief in the second half of our financial year, however it did not offset the hit to our profitability caused by significant currency fluctuations, nor the hit to our revenue from operational adjustments in addressing the Ebola outbreak, armed conflicts in several regions, and the 80-day runway upgrading works at Dubai International airport (DXB). Achieving our 27th consecutive year of profit and one of our best performances to date, is testimony to the strength of our brands and business fundamentals, as well as the dedication and talent of our workforce," said His Highness (H.H.) Sheikh Ahmed bin Saeed Al Maktoum, Chairman and Chief Executive, Emirates Airline and Group.
The strong rise of the US dollar against currencies in many of Emirates' and dnata's key markets had an AED 1.5 billion (US$ 412 million) impact to the Group's bottom line, while the 80-day disruption at DXB had an estimated impact of AED 1.7 billion (US$ 467 million) on Group revenue.
"Every year brings a new set of challenges. In addressing these, we are always guided by the best interest of our people, our customers, and our long-term goals. As a Group, we keep a close eye on our top and bottom lines, but we never take our foot off the gas pedal when it comes to investing to enhance our business performance, and looking after our people. In 2014-15, the Group collectively invested over AED 20.2 billion (US$ 5.5 billion) in new aircraft and equipment, modern facilities, the latest technologies, and staff initiatives. This was the second highest amount ever in one financial year after last year's record investment."
The Group's employee base across its more than 80 subsidiaries and companies increased by 11% to over 84,000-strong representing over 160 different nationalities.
"Looking ahead, the ongoing uncertainty for many currencies and economic markets around the world will continue to pose a challenge, as will the looming threat of protectionism in some countries. However, we move into the new financial year with confidence, and a strong foundation for continued profitability with our strong balance sheet, solid track record, diverse global portfolio, and international talent pool," said Sheikh Ahmed. "We will continue on our journey of steady and rational growth, and work even harder to meet and exceed our customers' expectations."
In line with the overall profit increase, the Group declared a dividend of AED 2.6 billion (US$ 700 million) to the Investment Corporation of Dubai.