Dubai Desert Conservation Reserve releases first annual report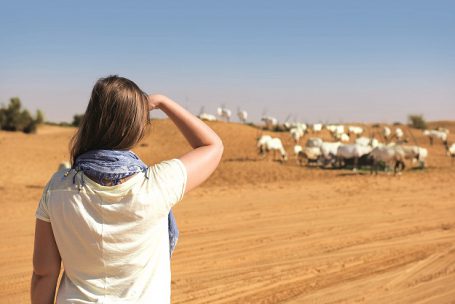 As Dubai begins welcoming international visitors, the Emirates Group is celebrating 20 years of partnership with the Dubai Desert Conservation Reserve (DDCR) and the release of the first DDCR annual report.
The Reserve covers an area of 225 square kilometres and makes up 5% of the Emirate of Dubai. A small area of the Reserve is allotted to tourism activity under careful controls and monitoring, and in the past year, it has attracted over 238,000 visitors. Under the supervision of professional guides, visitors from around the world came to experience spectacular dune drives, desert safaris and traditional Arabian experiences. The guides also help visitors to appreciate and learn more about the desert's natural habitat, heritage and wildlife, and the importance of conservation.
The Dubai Desert Conservation Reserve Annual Report 2019-20 covers the key highlights of the year from desert and wildlife conservation to plans to enhance the visitor experience.
His Highness Sheikh Ahmed bin Saeed Al Maktoum, Emirates Group Chairman and Chief Executive, said: "The Dubai Desert Conservation Reserve (DDCR) provides a balance to Dubai's growth and rapid urbanisation, ensuring the conservation of our desert areas and unique wildlife. Over the past 20 years, the Emirates Group has continually supported the Reserve and its various initiatives to nurture a flourishing eco-system. It is an investment in our heritage, and in our future. We are pleased to share our first annual report and look forward to welcoming back tourists and visitors to experience the Reserve."
In 2019-20 the Reserve continued to work with local and international experts and academics on projects that track, protect and reintroduce indigenous species to the UAE. In January this year, DDCR worked with the National Aviation Research Centre and the office of His Highness Sheikh Mohammed bin Rashid al Maktoum to release 250 MacQueen's Bustards, a large bird species that is classified as vulnerable through rapid population decline, into the reserve.
The reserve has also hosted VIPs and delegations from international governments and environmental bodies, such as Conservation International Vice-Chair Harrison Ford and CEO M. Sanjayan, and contributed to a series of workshops, conferences and presentations to share research and knowledge.
The partnership between Emirates and DDCR has gone from strength to strength with Emirates investing AED 8 million into the reserve DDCR over the last five years, and AED 28 million since the establishment of the Reserve. The Dubai Conservation Board (DCB) is Chaired by His Highness Sheikh Ahmed bin Saeed Al Maktoum.
Plans for the future include enhancing the visitor experience with the addition of the Desert Visitor Centre which is set to open in late 2021. This will provide an educational programme for visitors, connect them with the desert and the environment, and garner support for conservation.
Due to the national pandemic response, DDCR was closed to visitors from mid-March. It reopened in mid-June with safety measures in place.
Quick facts:
A total of 238,303 visitors came to the DDCR in 2019-20, with Arabian Adventures providing the bulk of visitors
1,425 ungulates are known to live in the DDCR as of April 2020
As of March 2020, the reserve was home to 800 Arabian Oryx; 450 Arabian gazelles and approximately 120 sand gazelles.
88 Oryx births were recorded in the reserve in 2019